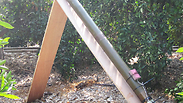 Rocket fire on Israel's southern region Monday is most likely tied to the targeted killing in the Gaza Strip a day earlier. Ahmad Saad, the terror operative who sustained critical injuries in the strike was a member of Palestinian Islamic Jihad in Gaza, as well as of other salafi and jihadi groups that operate in both the strip and Sinai.
When Hamas restricts these group's operations in the strip, they urge their comrades in Sinai to initiate rocket fire. They also enlist agents from these Gazan groups to assist with the technical aspects of the rocket attacks.
It is therefore highly likely that the rocket fire was launched by allies of Saad.
Related stories:
The prime suspect is an organization titled "Mujahideen Shura Council in the Environs of Jerusalem," whose members have already launched rocket fire at Eilat and have assumed responsibility for terror attacks near the Egypt-Gaza Strip-Israel border.
Hamas is now preventing rocket fire at Israel following strict warnings by Egypt, primarily the military. Even the Iran-backed Palestinian Islamic Jihad, which operates in the strip and is Hamas' second largest rival, is careful not to violate the Egyptian-brokered understandings reached after the IDF's Operation Pillar of Defense in 2012.
Salafist and jihadist groups operating in the Sinai have every reason to launch rockets at Israel – their main objective is to cause tension, and if possible an all out war, between the Egyptian military and the IDF. They hope to achieve this through rocket fire at Israeli population centers like Eilat.
These organizations are well aware of the fact that Israel will not be able to refrain from retaliating in the face of the rocket fire for much longer.
Recently, the aforementioned groups have been "busy" fighting the Egyptian military, which has been adamantly battling them, and that is why, presumably, they have not been more active and aggressive in their operations against Israel – the last rocket fire barrage was three months ago, and the one before that was seven months ago.
Nevertheless, the mere fact that rockets are launched, and the feasibility of it becoming more frequent and more accurate, poses a grave problem for Israel – should the state use force and utilize the IDF and perhaps also the Shin Bet against Sinai armed factions, or should it wait until the Egyptian military does so and avoid risking the peace treaty with Egypt?
That dilemma is not yet pressing, but an increase in rocket fire would demand a solution.