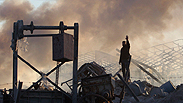 In a joint operation, the Israeli Air Force and Shin Bet killed a 22-year-old terrorist from Beit Hanoun in northern Gaza late Tuesday night.
The target in Gaza (צילום: רויטרס)
The terrorist was a member of the leftwing Popular Front's military wing and was involved in recent rocket fire towards Israel.
Medical sources in Gaza confirmed the report to AFP that the terrorist, along with another person, was killed. The two, Ahmad al Zaanim and Mohammed al Zaanim died when the car they were travelling in was hit near Beit Hanoun, the sources said.
The IDF said that "a terrorist involved in recent rocket attacks against Israel" had been the target.
The army added that Zaaneen had been a key figure in the far-left Popular Front for the Liberation of Palestine and had been involved in the firing of rockets during the burial this month of former prime minister Ariel Sharon.
The al-Quds Brigades, the Islamic Jihad's military wing, responded to the IAF attack which left their former operative Ahmad Zaaneen dead.
"His blood was not spilled in vain. He death will follow the occupier wherever it goes," the group wrote on its website. The statement also stressed that the Islamic Jihad "is committed to the way of resistance until all of the Palestinian land will be free."
Very soon
Hours before the Israeli raid on Tuesday Prime Minister Benjamin Netanyahu threatened to teach Gaza's ruling Hamas movement a lesson "very soon" following a surge in militant rocket attacks on the Jewish state.

"We have a very clear policy. We prevent terror attacks when we identify them in the making, and we respond forcefully against whoever hurts us," Netanyahu told reporters at a press conference with his visiting Canadian counterpart Stephen Harper.

"This policy produced a quiet year in 2013, which was the quietest in many years. If Hamas and the terror organizations have forgotten this lesson, they will learn it again powerfully very soon."

His warning was issued shortly after Hamas said it had deployed forces in Gaza to "preserve the truce" following an uptick of rocket fire on Israel.

Over the past month, tensions have risen in and around Gaza after more than a year of relative calm. Army figures show eight rockets have struck Israeli territory since January 1, and another five were intercepted by the Iron Dome anti-missile system; six Palestinians were killed by Israeli fire.

The military said it targeted a "terrorist operative" early Wednesday morning. It said it was in order "to eliminate an imminent threat to the lives of Israeli civilians."

The terrorist, Ahmad Zaanim, was involved in recent years in several events in which rockets were fired onto Israeli territory and in numerous attempts to carry out attacks with placing explosives, sniper fire and anti-tank fire towards IDF forces in the vicinity of the Gaza Strip border.

In addition, the terrorist who was killed was also involved in the most recent rocket fire towards Israeli communities in the vicinity of Gaza.

According to the Shin Bet, Zaanim is the one who carried out the rocket launch towards southern Israel moments after the conclusion of former prime minister Ariel Sharon's funeral at Sycamore Ranch last week. The Shin Bet noted that the terrorist's elimination will prevent future attack against Israeli targets.

This is a second attempt to strike terrorist targets in Gaza within one week. On Sunday, a Palestinian terrorist was seriously injured in and IAF airstrike in Gaza.

Alongside him, a 12-year-old boy was injured, and his condition was claimed to be moderate. IDF stated that the terrorist belonged to the Palestinian Islamic Jihad and was directly responsible for the rocket fire towards Ashkelon during the past weekend.

AFP contributed to this report