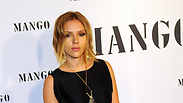 Scarlet Johansson
Photo: GettyImages
Just moments after actress Scarlett Johansson became the ambassador of Israeli company SodaStream, the celebrity was already being criticized for supporting a business that operates in the West Bank.
Five years ago the Israeli carbonated drink company made its way to the US market, and Americans have since fallen in love with the soda pop-making gadget. But the product's success has been overshadowed by a political cloud, which is threatening the Israeli business's achievements and its spokeswoman.
"While she's openly gunning for former Secretary of State Hillary Clinton for 2016, Johansson would do well to realize that 'normalizing' the Israeli occupation is a bad use of her celebrity," the Forward wrote. The New Yorker said Johansson's doings are in conflict her Oxfam activities and New York Magazine called the product "blood bubbles."
SodaStream makes beverage carbonation systems that allow consumers to turn tap water into sparkling water and carbonated soft drinks. Besides selling the machines, it also sells gas refills and syrup flavors.
Boycott Fright
Leaders from Israel's tech and banking industries will fly to Davos economic forum to support Kerry's peace effort, urge Israel and Palestinians to reach deal to save Israel's economy from looming boycott
Johansson will appear in the company's advertisement during the Super Bowl, the largest American tv event of the year, but stores across the US are continuing to ban the product for its political background. In addition, there have been vocal protests, calling for the same type of boycott and sanctions that were imposed on South Africa.
SodaStream employs 900 Palestinians in the Israeli settlements where its products are manufactured and according to reports pays Palestinian employees Israeli wages.
Despite the disagreements with the company's politics, BDS supporters can't argue with the product's success.
"A lefty journalist friend of mine in Tel Aviv has a machine he keeps under his kitchen sink so that he doesn't get embarrassed when other lefties come over for dinner," said Ali Gharib, a reporter covering Middle East issues, told New York Magazine.
Anti-Israel non-soda drinkers even went out of their way to provide an alternative to the product.
Palestinian rights activist Henry Norr made his own version of SodaStream, using sugar, yeast, and an elaborate system of tubes, bottles, and clamps.
"I'm a little embarrassed because it seems so trivial and inane," he said. "It's a classed product to begin with. I was never a soda drinker before doing the research," he said in a New York Magazine article.