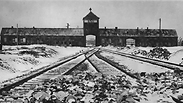 Auschwitz-Birkenau death camp. 'Few people from Arab countries visit the museum'
Photo: EPA
VIDEO - The Auschwitz museum at the site of the former Nazi German death camp in southern Poland said Monday it had launched online Holocaust awareness programs in Arabic and Farsi.

"We want to address groups of people who often have little knowledge of this subject or who even advocate revisionist views," museum spokesman Pawel Sawicki told AFP.

Video courtesy of jn1.tv

He said the online program was particularly needed as "few people from Arab countries visit" the museum located on the grounds of the World War II-era Auschwitz-Birkenau death camp.

Practicing Tolerance

Dozens of Muslim leaders from all over France gather at Shoah memorial in Drancy in bid to show that Islam is a tolerant religion

After taking over Poland in 1939, Nazi Germany set up the infamous camp in a former Polish army barracks in the city of Oswiecim, or Auschwitz in German.

It has become an enduring symbol of the Nazis' genocide against European Jews. One million were killed there from 1940 to 1945.

More than 100,000 others including non-Jewish Poles, Roma, Soviet prisoners of war and anti-Nazi partisans also died at the camp.

The Auschwitz museum has offered Holocaust education online in Polish and English since 2010.

In addition to the programs in Arabic and Iranian language Farsi, the museum also launched the same online service in Spanish and Portuguese on Monday.

The four new versions of the program are online at http://en.auschwitz.org/m/index.php?option=com_content&task=view&id=1154&Itemid=7.