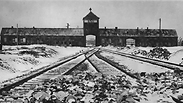 Auschwitz. World's largest Holocaust memorial
Photo: EPA
Half of a historic Auschwitz-Birkenau barracks that was on loan to the US has been returned to Poland after two decades and long negotiations, officials said Sunday.

The Nazi barracks was one of the main items at the US Holocaust Museum in Washington, which wanted the lease extended. But Poland asked for it back after adopting new regulations in 2003 that limit the loan of all historical and art works to a maximum of five years. That led to years of negotiations between the museums and US and Polish governments that ended in October, when the Holocaust Museum agreed to return its portion of the barracks.

Story of Survival

Chaya Hollander survived Auschwitz thanks to meals she prepared for Nazi officers. Several years after her death, her family members find booklet with recipes which kept her alive

The Auschwitz-Birkenau museum said on its website that the wooden structure arrived at Poland's Baltic port of Gdynia on Sunday. The barracks will undergo conservation and be joined with its other half in Birkenau. The procedure may take up to three years, according to Rafal Pioro, deputy director of Poland's Memorial and Museum Auschwitz-Birkenau.

The effort to reassemble the barracks at its original location indicates Poland's determination to be a guardian to the authenticity and integrity of the world's largest Holocaust memorial, said the museum's director, Piotr M. A. Cywinski.

Barracks No. 30 is the only one left of the wooden barracks that were built before September 1943 at the so-called family camp, where the Germans brought Jews from the Theresienstadt ghetto across Poland's southern border.

It housed hospital wards for women and children.

Out of some 46,000 Jews from Theresienstadt, about 20,000 were placed in the family camp and the others were located elsewhere or killed in the gas chambers on arrival.

Between 1940 and 1945, the Nazis killed some 1.5 million people, mostly Jews, at the Auschwitz-Birkenau camp.