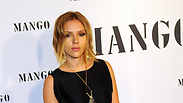 Scarlett Johansson
Photo: GettyImages
Scarlett Johansson has responded to critics who slammed her for planning to appear in an ad of SodaStream, a successful Israeli company that operates a factory in the West Bank.

"I remain a supporter of economic cooperation and social interaction between a democratic Israel and Palestine," Johansson said in a statement published by the Huffington Post.

BDS Threat

Actress will appear in soda pop-making gadget's Super Bowl commercial, as BDS supporters cry for boycott is muted by product's unique success

SodaStream employs 900 Palestinians in the Israeli settlement of Ma'ale Adumim where its products are manufactured and according to reports pays Palestinian employees Israeli wages despite not being legally demanded to do so.

"SodaStream is a company that is not only committed to the environment but to building a bridge to peace between Israel and Palestine, supporting neighbors working alongside each other, receiving equal pay, equal benefits and equal rights. That is what is happening in their Ma'ale Adumim factory every working day," Johansson said.

Responding to specific criticism put forward by Oxfam – which opposes any economic transaction with companies working in the West Bank and which Johansson also represents – she said "As part of my efforts as an Ambassador for Oxfam, I have witnessed first-hand that progress is made when communities join together and work alongside one another and feel proud of the outcome of that work in the quality of their product and work environment, in the pay they bring home to their families and in the benefits they equally receive."

In a particularly open criticism of the actress, the Forward worte that "While she's openly gunning for former Secretary of State Hillary Clinton for 2016, Johansson would do well to realize that 'normalizing' the Israeli occupation is a bad use of her celebrity."

The New Yorker said Johansson's doings are in conflict her Oxfam activities and New York Magazine called the product "blood bubbles."

Regarding the sotrm caused by the event, the star added that "Even though it is a side effect of representing SodaStream, I am happy that light is being shed on this issue in hopes that a greater number of voices will contribute to the conversation of a peaceful two state solution in the near future."