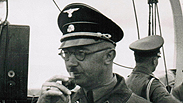 Heinrich Himmler
Photo: Realworks
After lying around in a Tel Aviv apartment collecting dust for dozens of years, hundreds of personal letters, pictures and secret journals belonging to Heinrich Himmler, the architect of the Final Solution, have been revealed.
The revealing documents, stored in Israeli painter Chaim Rosenthal's apartment, show how on one hand the top Nazi official used an iron fist to send Jews to their death, and on the other hand had a soft touch when dealing with his family, even in the shadow of the mass murder happening around him.
Himmler, the high-ranking Reichsführer of Adolf Hitler's SS, wrote many open letters to his wife Margarete (Marga) during the Second World War, and he never hid from her the exploits of the Nazi extermination machine.
"From Saturday until Tuesday I'll be in a killing field to test new and interesting methods of shooting," he wrote.
Blast from the Past
Yedioth Ahronoth set to publish slew of letters belonging to top Nazi Heinrich Himmler in Tel Aviv safe, and also try to explain how the letters managed to get to Israel, where they were hidden under the bed of an Israeli artist
After returning from a visit on the eastern front in July 1941, after the German invasion of the USSR, he apologized for having forgotten their anniversary. But in the same letter he admitted how when he saw his soldiers executing Jews by firing he couldn't stop throwing up.
His wife didn't remain apathetic to the surrounding events either. One time before leaving for the front she told him that "there's a can of caviar in the refrigerator. Take it."
Even when he was on his way to the death camps he didn't stop thinking about his cherished wife. A short time before the implementation of the Final Solution, Himmler sent her a short note.
"I'm going to Auschwitz. Kisses, your Heini."
In another letter from July 1942, just before going on a tour of the death camps, he wished his wife an enjoyable vacation.
"In the coming days I'll be in Lublin, Auschwitz and Lvov. All the best, have a good trip, and have a good time with our little daughter. Lots of warm wishes and kisses."
From the correspondence, the two were not only partners in their loving relationship but also in their strong anti-Semitic sentiments. In November 1938, the day before Kristallnacht, Marga wrote how she wished the Jewish problem would go away.
"This issue with the Jews – when will these scum leave us so we can live a happy life."
'Your evil darling'
The letters also revealed that Himmler's wife knew very well with whom she was marrying.
"I'm so lucky that I have an evil husband who loves his evil wife," she wrote. Himmler responded: "There's nothing other than 'revenge.' Forever." Marga wrote back: "Remember: 'Revenge.' My black soul is thinking about the most impossible things."
Even more algid is the testimony of his daughter, Gudrun, when the little girl described her feelings after visiting an extermination camp.
"Today, Mama, Aunt Lydia, Aunt Frieda and I visited an SS camp in Dachau," she wrote. "We had a big meal there. It was a great day. What a grand project the concentration camps are."
In Himmler and his wife's correspondence in the last '20s, he already had his murderous traits well established.
"My love, I found out how great it is that a person so evil like me merited such a good woman like you. I hope you are happy with your evil darling."
And after being appointed head of the SS, he made it clear to whom he was loyal: "If Hitler would tell me to shoot my mother – I would do it."
The leading theory is that Chaim Rosenthal – an Israeli artist and historical memorabilia collector interested in the Second World War – purchased the letters, probably in a Brussels' flea market.
According to another possible version of the events, the documents were found in the home of Karl Wolf, Himmler's personal assistant who fled to Italy at the end of the war and hoped to use the letters as a bargaining chip.
At some later point, Wolf took the letters with him to either central or South America. According to this narrative, Rosenthal purchased the letters in Mexico from Wolf's wheelchair-stricken personal assistant together with a group of investors for $40,000.
It is unclear which of the two versions are correct, but what is known is that Rosenthal brought the letters to Israel in the '70s and hid the collection under his bed.
Seven years ago Israeli director Vanessa Lapa's father purchased the letters, and she went on to make a documentary film on the subject, which is set to be broadcast on the Israeli Yes network in the near future.
In the 1980s, Yedioth Ahronoth reported that the letters were in the country but the public didn't have access to them. Despite the mysterious acquisitions of the letters, the top expert in the German Federal Archive has said they're real.
"We have no doubt as to their authenticity," President Michael Holman said.
Himmler, who was loyal to Hitler until his death, committed suicide in May 1945, a short time after falling captive to the British forces.
'A wretched man'
Opposition and Labor Cairman Knesset Member Isaac Herzog described Himmler's last moments, as told to him by his father, former president Chaim Herzog, who served in the British army during the war.
"As he was being examined by a military doctor he shifted his head to the side, cracked open a cyanide pill drilled into one of his teeth and died on the spot. We'll never know why he specifically chose to kill himself at that moment," MK Herzog said. "Daddy told us more than once the story of Himmler's capture, and he always told us how he looked like a wretched man, a gray clerk and uninspiring."
Yuval Karni contributed to this report
For the full story and more pictures see Yedioth Ahronoth's 24 Hours magazine