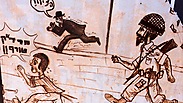 Haredi children fleeing 'predatory bacteria'
Photo: Daniel Goldman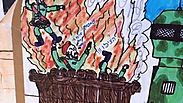 Haredi soldiers going up in flames
Photo: Daniel Goldman
New drawings inciting against ultra-Orthodox IDF soldiers have been distributed in haredi concentrations and social networks in recent days, as part of radical circles' battle against the impending IDF draft law and the plan to force yeshiva students to join military or national service.

The anonymous campaign managers have published several cartoons created by children who have joined the battle against the "draft decree." The drawings were posted on bulletin boards in radical haredi concentrations, and the leaders of the campaign have promised to release additional cartoons soon.
Troops likened to bacteria
One of the posters shows haredi soldiers going up in flames inside a military post, crying out "help" and "Tata" (father in Yiddish – a common cry of despair in the haredi sector). Next to them stands a satisfied, smiling man-fox wearing an IDF uniform, with a beard and a skullcap, apparently symbolizing the person responsible for their recruitment and burning.

Another drawing presents a yeshiva student and haredi children fleeing a haredi soldier and crying out: "Predatory hardak" (a derogatory term for haredi soldiers used within their own communities).

Orthodox in Uniform

D. has been pelted with stones, B.'s uniform has been stolen off clothesline, H.'s door has been vandalized with graffiti, A. is constantly denounced by acquaintances, and M. defines life as 'constant terror.' As campaigns against IDF draft gain momentum, ultra-Orthodox troops experience growing hostility, including verbal and physical assaults

One cartoon shows the "national trash can of the IDF and civil service," which yeshiva students are forcibly shoved into – and then come out shaved, in uniform and red berets.

One of the ads includes several children's cartoons which warn against the "poison of the hardak bacteria," refer to the soldiers as the "Cantonists of Israel of 2013," warn that "child abductors are roaming the market" and present a former haredi crying out: "Save me, I've became a hardak, I regret it."

Ironically, one of the posters is sponsored by the "Proper Speech Institute," which preaches against "slander, disagreement and humiliation." In order to justify its participation in the campaign, the institute quotes from the holy book "Chafetz Chaim" on Jewish ethics and laws of speech, which deals with these bans. "Instead of the destruction and demolition of religion… it is a great mitzvah and duty to do everything in one's power."
'To be or not to be'
Meanwhile, the drawings' distributors appear to be opening another front – this time against moderate haredi elements who are trying to harm the campaign. A leaflet distributed to synagogue managers urges them to document acts of vandalism against the ads or theft of propaganda material.

The radical circles attribute the acts to "striking forces of the army and Nahal and civil-national service," and plead with the synagogue managers: "At the instruction of the rabbis, may they live long and happily… whoever meets a suspected guy of this kind must follow him and document the theft in a regular camera or one installed on a pen… so that we can handle these guys according to the way of the Torah.

"These days, dear generous people have begun purchasing hidden cameras which will be operated in certain synagogue, where the hardak thefts are particularly active," the leaflets stated. "There is a lot of work of course, so the public must contribute and help.

"Jew, remember! Every booklet and every information paper is a very precious weapon. It has the power to prevent a Jewish soul from falling into the impurity and filth of the army and civil-national service. We are in a fighting retreat – to be or not to be… May we enhance the prestige of the Torah and cut down the evil."