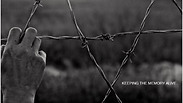 From the UN exhibition
Photo: Derek Michael Wasylyshen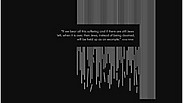 Another poster
Photo: Joakim Sundal
A special poster exhibition opened this week in the United Nations Information Offices in Vienna, Austria, in honor of International Holocaust Remembrance Day, which was marked Monday.

The exhibition includes posters created by students of art and design from around the world, including Muslims from Indonesia, who were asked to present their personal interpretation of the memory of the Holocaust.

Captured on Film

In honor of International Holocaust Remembrance Day, recording of drama probing questions of how history is manufactured and how we understand truth becomes available for streaming and download across the globe

The exhibition is joint international project in which participants from the Czech Republic, Canada, England, Russia, Indonesia and Israel were invited to create original posters on "Keeping The Memory Alive - Journeys through the Holocaust" after taking part in special seminars in their countries.

National juries selected the finalists from each country, and an international jury, comprised of experts in both design and in Holocaust education from all partner countries, selected the best 16 designs for the display.

The "Keeping The Memory Alive" Poster Design Competition is a joint project supported by the International Holocaust Remembrance Alliance (IHRA) between Yad Vashem (coordinators), in cooperation with the London Jewish Cultural Centre, United Kingdom, the European Shoah Legacy Institute, Czech Republic, the 2014 Canadian IHRA Chairmanship, and the Holocaust and United Nations Outreach Program.

The top 16 designs are presented in the special exhibition inaugurated Monday in Vienna. At the same time, it will also be displayed in 40 UN Information Offices around the world and in the Foreign Ministry in Jerusalem.