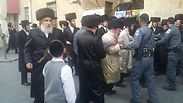 Haredi protest outside Café Bezalel
Photo: Daniel Weinstein
Are the Shabbat wars returning to Jerusalem? Dozens of members of the ultra-Orthodox community staged a protest Saturday against Café Bezalel in central Jerusalem, which has begun opening its doors on Shabbat.

Since the decision three weeks ago to keep the business open on the Jewish day of rest, the café has been packed every Shabbat.

The haredi protestors gathered outside the café and chanted, "Shabbos!" (Shabbat in Yiddish).

Kosher, But...

Proposed law seeks to require Rabbinate to grant kashrut certification to businesses desecrating Jewish day of rest, as long as food they serve is kosher according to Jewish law

They were faced by the seculars sitting in the restaurant, who began singing accompanied by guitars.

Both sides promised to return to the place next Saturday.

The business on Jerusalem's Schatz Street has been subject to haredi attacks in the past. Shortly after the café opened about six years ago, haredim would arrive at the place on Friday afternoons and protest the fact that it only closed after the beginning of Shabbat,

due to the dish washing and other closing arrangements.

Recent years, however, have seen a change in the atmosphere in the capital and an increasing number of businesses have begun opening their doors on Shabbat, including a pub and a bar in the city center, joining other businesses which were opened last summer in the First Station cultural complex.