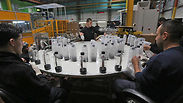 Working side by side
Photo: Gil Yochanan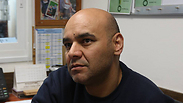 40-year-old Nabil Bashrat works for SodaStream
Photo: Gil Yochanan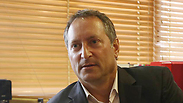 SodaStream CEO Daniel Birnbaum
Photo: Gil Yochanan
The topic of boycott has been widely discussed recently against the backdrop of the peace negotiations between Israel and the Palestinians.
While the debate was fueled up by severe warnings made by Justice Minister Tzipi Livni and Finance Minister Yair Lapid, a long line of commercial firms have also taken part in the discussion.
Full boycott map. Click to enlarge

The SodaStream factory is situated in a site that belonged to the Israeli Military Industry up until 18 years ago. When the company first began its operation, no one spoke of boycott, and Palestinians from the area – like today – were quick to find employment there.

"Those who seek to help the Palestinians end up hurting us," said Nabil Bashrat, 40, resident of Ramallah who works at the factory.

"(The factory) provides income to hundreds of families, entire villages. Peace is what happens here inside, and not outside. Those who are abroad don't understand the relations and actually sabotage the process. The factory draws us closer. Even in times of instability, as was during the war in Gaza, everything was as usual here."




When asked about the criticism that may be directed at him for working at an Israeli factory, he said "there is no problem. I walked around the streets of Ramallah wearing my SodaStream uniform. There are more people who want to come and work here. When I go to work I don't have to go through a checkpoint. The Israelis who come here do need to go through a checkpoint."
Scarlett said we are OK
SodaStream CEO Daniel Birnbaum claims that the boycott has yet to reach his assembly lines. According to him, there has yet to be any financial damage to his factory. In a few cases, such as in the one of Swedish customers, the clients were provided with Chinese-made SodaStream products or ones made within the Green Line.

Yet Birnbaum is not optimistic: "SodaStream will manage because it has other factories in the world, but the boycott itself is a future and existential threat to the Israeli economy."

He openly expresses his opinion of the leaders of the boycott, saying they harm both the economic sphere and the political arena: "The boycott is not legitimate and not authentic. It is a small group of people; some are high-minded Jews and Israelis who say that Israel is an occupying apartheid state. But these things do not being the peace closer to us.

"The boycott got a small blow last week from Scarlett Johansson, who in face exposed the hypocrisy behind these activists. It's not a humanitarian boycott, it is a political one. I'm in constant touch with her and she told me straight out: 'You are doing the right thing.' What's the right thing? We are employing Palestinians alongside Israelis and create and island of peace here."

Many Israeli diplomats share the growing pessimism regarding the strengthening of the boycott. One of them, who is currently stationed in a European capital, defined the phenomenon as a tsunami threatening to wash Israel away.

"The issue is already felt in Germany, which is our closest friend after the US," the diplomat explained. "It's hard to believe what has already happened and it's hard to think what's ahead. Even in places the boycott hasn't reached it, there's no doubt it's on its way."

"There's no chance to fight it," the diplomat continued. "If we do what is expected of us in the negotiations with the Palestinian we will become the world's pet children. But if we won't – we'll get a big South Africa-like blow, only worse."

Another senior diplomat in a different European capital is pointing his finger at the Americans: "The sense is that the US is pushing for some of this pressure and it has much influence on the matter. You can never know how they operate behind the scenes on this subject.

As of now, the boycott focuses on settlements, and we don't feel that there is talk of a national boycott, but the trend is not good."

Attila Somfalvi contributed to this report