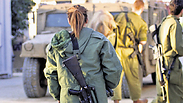 Illustration
Photo: Danny Solomon
An extensive report that included thousands of IDF soldiers, officers, and NCOs has shown that one of every eight women soldiers reported that they were sexually harassed in 2013.

The report was presented Monday at a conference at the Knesset on the status of women, by the women's affairs advisor to the IDF, Rachel Tevet Wiesel.

Related stories:

The data point, however, to a decrease in the reports of sexual offenses, as one of seven women soldiers had reported such assaults in the previous year. The majority of victims did not file official complaints.

Despite the drop, when calculating the general number of reports of sexual misconduct – including male victims – the number of soldiers who endured sexual offenses in 2013 stood at 561, compared to 511 in 2012.

Tevet Wiesel said that the increase does not necessarily indicate a rise in the number of offenses, as it could also be attributed to an increase in awareness to sexual harassment and assaults.

The percentage of men soldiers reporting to have been sexually harassed stood at 9% in 2013, a 5% increase from 2012. According to the data, 49% of the victims reported physical harassment and 51% verbal assault. Around 4% of the victims said that they had been raped.

The issue of sexual misconduct in the IDF has drawn heated debates over the past year, mainly following the convictions of two high-ranking officers for assaulting women soldiers. Both officers were sentenced to community service.

Chairwoman of the Knesset Committee for the promotion of gender equality, Yesh Atid MK Aliza Lavie, said she was disconcerted by the military advocacy's mitigated sentences.

Tevet Wiesel stressed that in 2012, the IDF set up a help center that allows soldiers to report misconduct without officers' intervention.

Representative of the Judge Advocate General, Sharon Zagagi Pinchas, admitted that the sentences were lenient, but insisted that the two incidents were extraordinary and that appeals were filed in both cases.