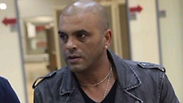 Eyal Golan
Photo: Motti Kimchi
The case against popular Israeli singer Eyal Golan, who was accused of having sex with underage girls, has been closed, Tel Aviv District Court announced Wednesday, citing lack of sufficient evidence.

The affair came to public attention last November, after it was revealed that the police had received a complaint from a girl who claimed she had sexual relations with a "famous singer". For several days, the courts prevented the media from reporting the singer's name, but countless rumors spread across Israel, and Golan's name was ultimately cleared for publication.

Related stories:

Golan was detained for questioning by police during the investigation into the claims, and soon after released to house arrest. He has consistently denied the allegations against him, claiming he did not know that the girls were underage.

Against the backdrop of much public criticism, Golan also made an appeal to the Israeli public, writing in an emotional open letter that the situation in which he found himself had stemmed from his desire to renew his relationship with his father.

"I hope that the Israeli public understands that there was a mistake in my judgment of who I wanted to be around me, in my yearning to renew my relationship with the father who abandoned me at a young age," he wrote. In the letter, Golan spelled out again that he had not committed any sexual offenses or disrespected anyone.

Last month, the singer's testimony to police, as well as the results of his polygraph tests, were publicized. Golan had told the investigators about a sexual encounter with a woman he took to his father's apartment.

"I don't exactly remember when, but sometime during the last year my father came to my house with two girls. One presented herself as A, (aged) 21. We began to kiss, and eventually it became oral sex.

At this point, he maintained, he felt that there was something problematic about the situation: "I wasn't sure of her age; something about her excitement raised my suspicions."

"After three minutes I asked her about her age again, and she told me that she had lied and she was in fact 17 and a half, almost 18. I got dressed and was very angry at my father. I told him I could ruin my career over this."

Golan's testimonies, and testimonies of others involved in the affair were released ahead of the hearings of his father, Dani Biton, and production manager, Zahi Assouline.