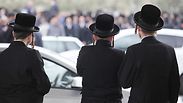 Jerusalem protest
Photo: Gil Yochanan
Thousands of Haredi men protest nationwide over IDF enlistment
Haredim are holding protests in Jerusalem, Bnei Brak and other cities with haredi communities; clashes and arrests reported. The demonstrations are being organized by radical haredim and are held on the backdrop of move to cut funds to yeshivas
Thousands of haredi men held protests throughout the country Thursday, following the arrest of a haredi draft-dodger and against the backdrop of a bill intended to enforce the enlistment of haredi youths into the IDF.

Twelve haredi men were arrested for allegedly disturbing the peace at one demonstration in Jerusalem.

Earlier Thursday, Finance Minister Yair Lapid decided to freeze all the funds intended for yeshivas in the wake of a High Court ruling that the State must stop funding yeshiva students who had not enlisted. Both the court ruling and Lapid's wider move to freeze the funds have fueled an already disgruntled haredi community, angered by the current bid to force them to enlist.




Protests were held in Jerusalem, Bnei Brak – where both clashes with the police and arrests were reported – as well as in Ashdod, Beit Shemesh and Modi'in Illit.






The demonstrations were organized by the "Jerusalem faction" of the Lithuanian ultra-orthodox sect. The faction is known for its aggressive stance on haredi enlistment in comparison to the general haredi public. Anti-Zionist haredim are also participating in the Jerusalem protest.

Haredi politics

Yedioth Ahronoth obtains Shaked Committee draft. Officials close to panel head Shaked say no reason for bill to include criminal sanctions against those not enlisting: 'The police won't arrest hundreds and thousands of haredim, so why go for a provocation?'

"This is just cruel. (Lapid is) leaving us without money, even for those students who deserve it. Never before have funds been frozen after being already being approved by the Finance Ministry," said a source within the community.




Lapid's decision to freeze the funds in their entirety is more sweeping than the original court ruling, which applies only to yeshiva students aged 18 to 20 who were served with enlistment orders beginning in August 2013, but had not reported to the recruitment center, following Defense Minister Moshe Ya'alon's decision to delay their draft.

Sanctions for draft-dodging

After court decided to halt funding for draft-dodging haredim students, Lapid decides to freeze entire yeshiva budget. 'This is just cruel,' members of haredi community say only day after claiming court ruling was irrelevant

The protest were being held hours after Ynet published the central points of a draft of the bill set to govern haredi enlistment. The bill will be voted upon in March, and is currently being worked on by a committee headed by Habyit Hayehudi MK Ayelet Shaked.

According to the report, the bill sets enlistment quotas and details the process of enlistment for haredim into either the IDF or civilian service. It also offers incentives for yeshivas promoting enlistment and filling their quotas.

The sanctions for those failing to enlist were abcent from the bill's draft. Shaked supports economic sanctions, while Science and Technology Minister Yaakov Peri, who headed the Knesset committee that formulated the original version of the bill, is seeking criminal sanctions.

At this stage, it has been agreed that the number of Haredi men being enlisted will increase each year. The number of young Haredi men drafted each time could potentially reach 8,000, and the enlistment targets are expected to rise in stages: 3,800 in 2014 (2,300 performing military service and 1,500 national civilian service); 4,500 in 2015; and 5,200 in 2016, of which 3,200 will enter military service.

The recruitment targets take into account every Haredi man between the ages of 18 and 24, with each eligible to defer military service for up to six years. However, those who defer will be expected to enter the labor market for each year they defer, and will be subject to sanctions if the enlistment targets for that intake are unmet.

An additional clause in the law will narrow the gaps in the service times for men and women – the period of service for men will drop from 36 to 32 months, and the service period for women will be extended from 24 to 28 months. The IDF will also receive a budget increase of half a billion shekels in order to pay combat soldiers who decide to extend their service.

This week's High Court ruling was decided against a backdrop of petitions to enlist Haredi men, and not finance their studies now that the Tal Law has expired. In the meantime, MKs are preparing to vote next month on a bill on "sharing the burden", which replace the now defunct Tal Law.

The bill will be tied to two other pieces of legislation – the Referendum Bill and the Governance Bill. All three bill proposals require a majority of 61 and will be presented for the vote next month, between March 10 and 12.