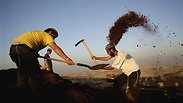 Hilltop Youth. How can one hold negotiations this way? How can one run a state this way?
Photo: AP
Whether we like it or not, the keys for the fate and future of the State of Israel are today largely in Benjamin Netanyahu's hands. It's possible that he has reached the point reached by most of his predecessors, from Menachem Begin to Ehud Olmert, and he understands he must give up on the dream of the Greater Israel. It's very possible that he wants to, but can't. But it's also possible that he just doesn't want to.

In any event, Netanyahu will rely on the defense establishment in formulating his final answer to John Kerry. He will quote Moshe Ya'alon. The defense minister will ask the chief of staff about the image of our desired military arrangement, and Benny Gantz will ask Central Command chief Nitzan Alon. The latter is likely expected to ask the chief of staff: What political arrangement are you bringing us? And in accordance with the answer, he will produce what he sees as the best military-security advice: With the Jordan Valley? Without it? With NATO forces? Without them? And where will the border of the Palestinian state pass?

Negotiation Stories

Former prime minister discusses 2008 peace negotiations, reiterates belief that Israel can safely withdraw from West Bank, says issues will be solved to Israel's satisfaction

Therefore, it is clear that the key figure at the moment is Major-General Alon. Judea and Samaria's residents understand that too, and the verbal and physical attacks against him and his subordinates come as no surprise.

He can give professional military advice at home. We, the settlers, want this and that to happen – and that's the way it will be. Woe unto him if not.

The vast majority of Israel's residents have never visited the Judea and Samaria territories. We have been there for 47 years, and for many Paris is mentally and physically closer than Elon Moreh.

Most of the state's citizens also think that all Judea and Samaria settlers are of one piece. They are all brothers – religious, nationalistic, fanatic. They all have a sparkle in their eyes and fringed garments on their bodies. They all plot and design evil. But the people of Judea and Samaria are not like that, which makes the daily work of Alon and his friends more difficult.

The Jewish population of Judea and Samaria is usually divided into four main segments: The first is what we will call national-religious youngsters. No longer young, they are what used to be the settlers' "hard core." They believe the die has not been cast yet with Netanyahu, and definitely not with his ministers, and are convinced that the plot to give up on territories in Judea and Samaria can be thwarted.

The second force is the one we'll call "the pragmatists." Their number is perhaps the highest among the settlers, but they have little influence. They are those who arrived in Judea and Samaria mainly or also after improved financial conditions. Among quite a few of them, the faithful ideology was added to a desire to improve housing. The members of this group say to themselves and to others: What the Jewish people will decide is what will be.

The next group is the haredim. They include some 100,000 people today and reside mainly in the big communities: Modiin Illit, Beitar Illit, Emanuel and more. They obey their rabbis' commands, and live their lives as if they were in a different country. They see the State of Israel as overseas.

The last group is not one, but a compilation of groups that do not see eye to eye, and there is no chance that Nitzan Alon will be able to get them together in one room. They are referred to by the general, convenient name "Hilltop Youth." They have a great amount of influence on the ground in their unusual – not to mention criminal – acts, and on the State of Israel.

The number of Hilltop Youth members is unknown, but the identity of the rabbis behind them is very clear. Had those rabbis wanted to, they would have terminated the Hilltop Youth a long time ago, but for them this youth is the raised whip, the threat, the power to control. They don't believe the prime minister and his ministers, and are convinced that the real struggle still lies ahead.

In light of this, all that is left to say, or ask, is: So how can one hold negotiations this way? And how can one run a state this way?