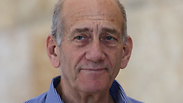 Ehud Olmert
Photo: Alex Kolomoisky
Former Israeli Prime Minister Ehud Olmert said Friday that if talks he held with Palestinians in 2008 had produced a peace deal, it would have forced tens of thousands of Jewish settlers to leave their homes in the West Bank.

If a deal had been reached at the time, it would also not have included an Israeli presence in the Jordan Valley, Olmert said.

More than five years on, the fate of the Jewish settlements and the Jordan Valley, along with recognition of Israel as the Jewish national homeland, are key sticking points in the ongoing Mideast peace talks brokered by US Secretary of State John Kerry, aimed at establishing an independent Palestinian state alongside Israel.

In an interview with Channel 2, Olmert said that in his opinion, a deal in 2008 would have made "about 80,000" settlers leave their homes.

Asked if Israel would be able to evacuate 80,000 settlers today, Olmert said: "I have no doubt that it is possible."

The plan back then, supported by then-Defense Minister Ehud Barak and presented to the Americans, did not include an Israeli military presence in the Jordan Valley, an area in the West Bank that borders Jordan.

Israel wants a continued presence along the strategic border while Palestinians demand Israelis withdraw once a Palestinian state is formed. Israel has traditionally viewed the valley as a buffer against possible Arab ground attack from the east, though Israeli security experts are now split on whether the Jewish state needs to maintain control there in an era when long-range rockets may pose a greater threat than tanks. Israel also has a peace treaty with Jordan.

Netanyahu faces strong objection to territorial withdrawals from some ministers within his own coalition. Many Israelis don't want their country to withdraw from the West Bank or parts of east Jerusalem because they have deep religious significance for many devout Jews, who see the areas as their biblical heartland and heritage.

Others object because of security concerns, citing Israel's withdrawal from Gaza in 2005 that was followed by the strip's takeover by Islamic Hamas militants in 2007 and used as a staging ground for attacks on Israel.

Benjamin Netanyahu has been demanding that the Palestinians must recognize Israel as the Jewish national homeland for peace talks to succeed, arguing that Israel is being asked to recognize the Palestinians future state as their national homeland.

The current Israeli prime minister has said that recognition of the Jewish state is at the "root of the conflict," as it predates settlements and other issues at the heart of the negotiations.
Olmert & Abbas
Olmert said he discussed the issue with Palestinian President Mahmoud Abbas , whom he said he knew "better than anyone" because the two met 36 times about all the core issues in the conflict. Olmert said when the moment for an agreement arrives, he believes the issue will be solved to Israel's satisfaction.

In 2008, Israel offered to withdraw from roughly 94 percent of the West Bank and compensate the Palestinians with the equivalent of 6 percent through a "land swap" that would allow Israel to keep major settlements. Olmert also proposed international administration of Jerusalem's holy sites.

Abbas did not agree to the deal then. Olmert said Friday he doesn't know why Abbas turned it down.

Despite his well-known disputes with Netanyahu, Olmert said he is convinced the current prime minister wants to reach a peace agreement.

Earlier Friday, the Israeli military removed Palestinian activists protesting at a deserted village in the Jordan Valley. Hundreds had been demonstrating for a week at the site of Ein Hijleh, which was abandoned after Israel captured the land from Jordan in the 1967 war.

Abdallah Abu Rahmeh, a protest organizer, said soldiers raided the site early Friday morning. The military said troops had called on the activists to leave the area and evacuated them after they refused.

And in Jerusalem on Friday afternoon, Israeli police arrested seven Palestinians who clashed with officers at the holiest site to Jews and Muslims in Jerusalem.

Police spokesman Micky Rosenfeld said clashes began when about a dozen Palestinians emerged from Friday prayers and threw rocks at police stationed near the Temple Mount, the holiest site in Judaism.

Known to Muslims as the "Noble Sanctuary," it is Islam's third-holiest site.

The adjacent Western Wall, a remnant of the biblical Jewish Temple compound, is the holiest site where Jews can pray.