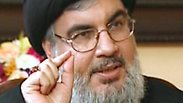 Hassan Nasrallah
Photo: AFP
Hezbollah cancels annual rally after string of bombings
After a string of suicide bombings targeted Hezbollah's stronghold, terrorist group cancels annual public rally, opting instead for televised speech by Nasrallah. Meanwhile, sources in Lebanon point at growing threat against group amid Syrian involvement
The radical Shiite terror group Hezbollah says its leader will give a televised speech later this week to speak, but will not hold its annual public rally.

The terrorist group's leader Hassan Nasrallah used to give a speech every year in mid-February marking the death of three of the group's leaders including Hezbollah's top military commander Imad Mughniyeh who was killed in 2008 by a bomb that ripped through his car in Damascus, Syria.

Hezbollah did not give a reason for not holding the annual rally that is usually attended by hundreds of supporters in their stronghold south of Beirut, however the cancellation appears to be related to a wave of bombings in Hezbollah's strongholds around Lebanon that left scores of people dead over the past months.

Related stories:

The attacks have been claimed by various jihadist groups, some of them linked to organizations fighting in neighboring Syria, including Al-Nusra Front in Lebanon, the Abdullah Azzam Brigades and the Islamic State of Iraq and the Levant.

The groups say they are targeting Lebanon's Hezbollah for sending thousands of fighters into Syria to fight alongside the regime.
Party of the devil
Earlier Thursday, Jordanian Islamist cleric Abu Qatada, on trial for terrorism, said he supports a string of al-Qaeda-linked bombings against Hezbollah because it backs the Syrian government, highlighting how Hezbollah's involvement has fueled already volatile sectarian tensions in both the region and Lebanon.

"I support the bombings in Beirut. The leader of Hezbollah (Hassan Nasrallah) sent fighters to Syria to back the regime. He is responsible for those killed in Lebanon," Abu Qatada told reporters at the state security court in Amman.

"If Lebanon wants to protect itself, it should tell the party of the devil to get its fighters out of Syria," he added in a swipe at Hezbollah, whose name in Arabic means party of God.

"The party of the devil started all of this. It should be pressured to get out of the Syrian conflict," Abu Qatada added, describing the bombings in Lebanon as "self-defense operations."

Since July, 10 blasts have hit Lebanon, six of them involving suicide bombers. On Wednesday, Lebanon's security forces arrested the Naim Abbas, the leader of Abdullah Azzam Brigades which perpetrated a number of the attacks.

Also on Thursday a Lebanese political official said the string of attacks were a message to Hezbollah, NOW Lebanon reported.

Future Movement official Mustafa Alloush said that the recent arrest of Abbas could be part of a larger political campaign being mounted against Hezbollah.

"The discovery of the suicide bombers could, in itself, be a political message aimed at Hezbollah, and therefore the groups responsible for these (suicide) operations wouldn't mind revealing their identity," Alloush told NOW Lebanon on Thursday.

Hezbollah sources reportedly told NOW Lebanon of their "relief" at the news of Abbas' arrest and security forces success in dismantling two car bombs in Beirut and Beqaa Valley.

Associated Press and AFP contributed to this report