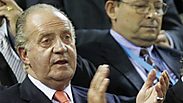 Spanish King Juan Carlos
Photo: Reuters
A week after it was announced that descendants of Jews who were expelled from Spain in 1492 are eligible to be granted Spanish citizenship without conceding their current citizenship, Spanish King Juan Carlos met with a delegation of 60 Jewish leaders.

King Juan Carlos said Spain was "making major efforts" to strengthen its ties with Sephardic communities around the world.

Passport Claims

Op-ed: Those seeking a foreign passport must make a choice, because when it comes to one's homeland there is no two for the price of one sale

"Our history has been profoundly enriched with Spanish Jews' contributions to the arts and sciences, to commerce and philosophy. We are extremely proud of this legacy," he added during the reception for US Jewish leaders at his official residence.

Prospective applicants for Spanish citizenship will have to prove their Sephardic origins through their surnames, genealogical trees, evidence of ancestors buried in Jewish graves, and get a certificate from the federation of Jewish communities in Spain.

It is difficult to say how many people could benefit from the draft law but some estimates put the figure at over three million.

"I think the symbolic significance of this is as great as the practical implication," the chief executive of the Conference of Presidents of Major American Jewish Organizations, Malcolm Hoenlein, told AFP on the sidelines of the justice minister's meeting with the US delegation.

"It sends an important message about the need to confront history, that you can't avoid the events of the past."