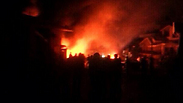 Site of explosion in Hermel, January
A suicide bomber killed two Lebanese soldiers and a civilian with a car bomb at an army checkpoint in a Hezbollah stronghold in northeast Lebanon on Saturday, security sources said.
The Nusra Front in Lebanon – a militant Sunni group named after one of the factions fighting against President Bashar al-Assad in Syria – said it carried out the attack, in a statement posted on Twitter and a website used by militant groups.
Related stories:
The attack at the entrance to the city of Hermel also injured several people.
Lebanese Prime Minister Tammam Salam, the highest-ranking Sunni Muslim in the administration, condemned Saturday's attack as an act of terrorism. He called for "solidarity in confronting terrorism in all its forms".
An army general, who spoke on condition of anonymity because he was not authorized to brief journalists, had no immediate word on casualties from the blast at the entrance of the town of Hermel. The National News Agency said one person was killed and 14 of the wounded were rushed to three hospitals in the area.
Humam Farhat, an official at the Assi Hospital in Hermel, told Al-Manar TV that they received five wounded people of which three are soldiers.
Hermel is a stronghold of the Shiite Hezbollah group, and on Feb. 1, a suicide attack at a gas station in the town killed at least three people.
Footage aired on local TV stations showed fire engines spraying water on burning cars at the checkpoint, which is on a bridge over the Orontes river.
The troops have been on high alert searching suspicious cars for fear of more suicide attacks in Lebanon. Lebanese soldiers have arrested about half a dozen people suspected in planning bombings around the country.
On Wednesday, two suicide bombers blew up their cars near an Iranian cultural center in Beirut, killing at least eight people and wounding scores, including children in an orphanage.
A series of attacks have struck Shiite areas in Lebanon over the past months, killing and wounding scores of people.
Al-Qaida-linked groups claimed responsibility for most of the bombings, saying they were retaliation for Hezbollah's involvement in the Syrian war alongside President Bashar Assad's forces. The Shiite militant organization has vowed to continue fighting in Syria.
Reuters, the Associated Press and Roi Kais contributed to this report.