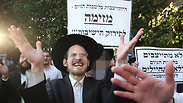 'There is no other interpretation to the words Kiddush Hashem'
Photo: Yaron Brener
A senior rabbi in Jerusalem has warned his followers to prepare for the possibility of casualties in the ultra-Orthodox battle against the IDF draft law.

Addressing hundreds of young men – mostly minors – on Saturday night, Rabbi Shmuel Deutsch asserted that a fight to death against the law was the command of late Rabbis Eliezer Menachem Shach and Yosef Shalom Elyashiv, who were the leaders of the haredi public in the past decades, and defined it as "one of the great principles of Judaism."

Haredi Enlistment

Op-ed: Yair Lapid sees the 'equal share' law as a historic triumph, but even he knows it doesn't consider seculars and haredim equal.

Deutsch, head of prestigious Lithuanian yeshiva Kol Torah, attended a conference organized by the "Jerusalem faction" of Lithuanian Orthodoxy following the agreements reached by the Shaked Committee over the outline of the law. He spoke immediately after the camp's leader, Rabbi Shmuel Auerbach.

Deutsch argued that the purpose of the draft was to make the haredim secular, rather than creating an equal share of the burden or catering to the army's needs. Therefore, he asserted, this is a time of a "(spiritual) destruction decree," in which case there is a halachic duty to give away one's soul – even if it fails to curb the law.

"There is one piece of advice that the yeshiva head of blessed memory (Rabbi Shach) gave," said Rabbi Deutsch. "It's possible that all of us – (if) the land turns into a dangerous place, and even without it – will have to go to exile and there will be nothing left here. That's what he said. It's possible that is what we will have to do, and it's possible that we will have to give away our soul – and it's possible that there will be casualties."

"There is no other interpretation to the word devotion, and there is no other interpretation to the word 'Kiddush Hashem' (the sanctification of God's name through martyrdom)," the rabbi added. "We have to be certain that this is the command and that no one disagrees with it."
'Give your life for sanctification of God's name'
According to the rabbi, "Even if we all have to give away our soul, it's our right. And even if we fail, then we got to give away our soul for the sanctification of God's name… We will know that we did our duty – and we will do our duty. We will be able to come to Heaven to our rabbi of blessed memory (Rabbi Shach) and say: 'We fulfilled your mission.'"

The Kol Torah yeshiva head told the audience that the late "posek of the present generation" (arbiter of Jewish law), Rabbi Elyashiv, was asked in the past whether this tough stance of his predecessor in the haredi leadership should be made public, and he responded that there was no need "as long as it does not relate to an action."

Now, Deutsch said, the possibility that yeshiva students will be drafted has become more concrete and "there is already a destruction decree in practice," and so it is the public's duty to obey the two rabbis and fulfill their "mission."

Addressing the draft law's supporters, he said: "They have only one goal, which is being said in the most explicit manner, and I have heard it myself from people in the high ranks: They want to secularize all the haredi Jews and cause them to sin…

"They are not talking about an equal share of the burden. They are saying this explicitly. They want equality in abandoning the Torah. And our response to that: In a destruction decree – 'it is because of you that we are getting killed every day' (Psalms 44)."