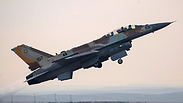 IAF F-16 warplane
Photo: EPA
Judging by the quantity and level of accuracy of the reports in the Lebanese media, it is safe to infer that there was indeed a strike against targets on the ground on Monday night, likely on both sides of the Lebanese-Syrian border. One can also assume, judging by the nature of the reports, that there was intensive Israel Air Force activity during those hours.

From all of that, it appears that it would not be far fetched to infer that Hezbollah attempted to smuggle advanced weaponry into Lebanon last night.

One can also assume that Israel, as it has said it would numerous times in the past, did indeed act to stop the convoys leading these weapons from reaching their destination.

Related stories:

The strike took place in the Beqaa Valley area, a "traditional" area through which Hezbollah and the Syrians have tried in the past to smuggle not only advanced weapons, but also drugs and other contraband.

The mountainous area has wadis with wide dirt roads through which even large tow-trucks can pass. According to reports on the usually-credible Al Arabiya news network, this was an attempt to smuggle ballistic missiles from Syria to Lebanon.

There were past attempts to smuggle such weaponry - some of which Israel thwarted and some of which Israel failed to stop, so it can be assumed Hezbollah managed to obtain a small amount of Syrian-made advanced Scud D ballistic missiles with a range of 700 kilometers.

It is fairly easy to locate and hit these convoys, which carry relatively large loads like the ballistic missiles, even in problematic weather conditions.

The Syrians reportedly store the weapons meant for Hezbollah in a logistics army base near Damascus. The base is now under Hezbollah control, and the Shi'ite organization defends it from Syrian rebel forces. Convoys often leave this base towards the Syrian border in the Nabi Chit area to transfer the advanced arms to Hezbollah in the Beqaa Valley.

It is very possible that this is what happened Monday night. Hezbollah took advantage of the stormy weather, that makes it harder on intelligence mechanism to see what is happening on the ground, and also makes it harder on IAF planes to strike, in order to try to clandestinely transfer the missiles or other advanced weaponry. The weather was clear in recent weeks, and a window of opportunity was opened on Monday night that Hezbollah could've taken advanced of. This is probably what Hassan Nasrallah's men and the Syrian army were trying to do.

Lebanese media reported on strikes inside Lebanon, but Hezbollah's television station Al-Manar was quick to deny these reports and claim there was no strike on Lebanese territory. Al-Manar also claimed Hezbollah did not suffer any losses, but it seems like there were losses to Hezbollah men on the convoys, judging by Lebanese press reports.

Hezbollah rejected reports of an attack on Lebanese territory so it would not have to respond to these attacks. It is also possible the Monday night strike really did take place on Syrian territory, very close to the Lebanese border. In any case, Hezbollah does not want its major opposition in Lebanon to slam it for doing nothing while Israel attacks its ranks.

It is also likely that more than one target was attacked, since this is a convoy that was transferring advanced weaponry and it was naturally scattered on a fairly large area as a form of precaution.

As for the reported losses, that Hezbollah may or may not have suffered, this ambiguity comes from the type of report. Hezbollah has suffered losses in the past when convoys attempting to smuggle weapons were attacked, but it did not report on those incidents, and since there were no journalists in the area, there was no one else to report on the attacks. This time, there was a hardworking journalist who reported on the strike, and perhaps it was the Syrian opposition that reported on Hezbollah losses in order to step up their psychological warfare.

In any case, it appears both Hezbollah and the Syrians failed in their mission last night.