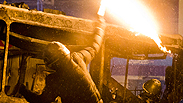 Rabbi fears anti-Semitic activity could escalate to the point of claiming lives
Photo: AP
Rabbi Menachem Margolin, director-general of the European Jewish Association (EJA), has urged Prime Minister Benjamin Netanyahu and Defense Minister Moshe Ya'alon to urgently send security forces to the Jewish communities in Ukraine, which he says are suffering from a "growing wave of anti-Semitic attacks."

Margolin voiced his concern that the anti-Semitic activity in the eastern European country would escalate to the point of claiming lives.

Ukraine in Turmoil

Israel Radio says Tuchynov told Rabbi Bleich that new leadership seeking to end anarchy of recent months.

"Community reports indicate an alarming, and increasingly violent, trend of hatred towards Jewish targets – and so far, there's been no reaction," he said. "The challenge is clear and the State must help to take security measures for what has become a Jewish emergency."

He also called on the leaders of European states to make it clear to the opposition members in Kiev that they are responsible for preventing the ongoing harassment.

The reported events include a Molotov cocktail thrown at a synagogue in Zaporizhia; an incident which was captured on security cameras; a message sent to the rabbi of Kryvyi Rih that he must leave the city within 72 hours; a writing on the home of the rabbi of Bilytske saying, "We are already near you"; vandalism against a sculpture created by a Jewish artist; and graffiti in favor of the anti-Semitic party.

"The complicated challenge in taking security measures in a foreign sovereign country is clear," Rabbi Margolin wrote to Netanyahu and Ya'alon, "but this is an emergency. On behalf of the Jews of Ukraine, the Rabbinical Center of Europe and the European Jewish Association, I urge you to take every possible step, including dispatching security guards to secure the safety of Jewish communities in Ukraine, until the danger has passed."
'It's time for the State of Israel to intervene'
The EJA director-general noted that the State of Israel was established to guarantee the safety of the Jewish people.

"The Israel Air Force aerial demonstration over the death camps in Auschwitz conveyed a clear message that the State would secure the safety of the world's Jews even in foreign countries," he concluded. "There is no need to reach such a radical situation, and unfortunately the time when the State is required to intervene has arrived."

About a month ago, 30-year-old Dov Ber Glickman, a member of Kiev's Jewish community, was assaulted by three youngsters as he was making his way home from a Shabbat meal. After knocking him to the ground, Glickman's assailants stabbed him three times, apparently in his arms and legs.

A week earlier, a Jewish Israeli teacher was beaten up at the entrance to his building. Members of the Jewish community described feeling "real fear," and demanded tight security from the Ukrainian authorities.