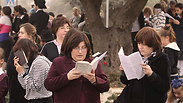 'It's difficult living in a society where people from the outside think you're not normal'
Photo: Ido Erez
Haredi women join anti-draft law protest
While some ultra-Orthodox women see Torah study as only way of life, others say haredi men who are not suited for yeshiva study should do some kind of service for country. 'This decision shouldn't come from coercion but from dialogue,' says 24-year-old mother from Gur Hasidic community.
Among the hundreds of thousands of ultra-Orthodox Jews that gathered to protest the government's proposed military draft law on Sunday were countless women and children. Police estimated that about half a million haredim gathered on Sunday afternoon at the nation's capital, with 2,000 buses bringing in demonstrators from outside, in a united front of prayerful appeal and penitence.

"No one should force us to serve in the army and not study Torah," Faige, a 24-year-old mother from the Gur Hasidic community, told Tazpit News Agency. "This decision shouldn't come from coercion but from dialogue."

United Front

Analysis: Sunday's protest succeeded in uniting all haredi factions, but its participants do know that the IDF draft law has already been approved.

She believes that haredi men who are not suited for yeshiva study should do some kind of service for the county. "If army service can be performed in a way that is suitable to the lifestyle of someone who strictly observes the Torah, then that should be an option."

But Faige, who was born and raised in a mixed central Jerusalem neighborhood with national-religious and secular neighbors, is sensitive to the way in which Israeli mainstream media depicts the Haredi community.

"It's difficult to live in a society where people from the outside think you're not normal. The media casts us in a terrible light – but we are just as intelligent and productive as anyone else.

"There are haredi men who serve in the Nahal Haredi (battalion) and who work just like my husband," Faige added.

The pending government bill aims to make the haredi community part of the compulsory draft and will go into effect on July 1, 2017 if it is finally passed in the Knesset and overcomes High Court of Justice petitions.

Although the conscription bill will make draft evasion a criminal offense for the ultra-Orthodox, it will allow haredi yeshiva students the right to defer service until the age of 26, with incentives to enlist earlier. The bill will also allow more than half of haredi men to be exempt altogether from the army once it goes into effect in the first year.

Faige joined the massive rally on Sunday (there was a separate section for women on Jaffa street in Jerusalem), stating that she hopes her prayers will be heard. "Even if the government and the court do not listen to us, maybe the Heavens above will hear our prayers. That's why our rebbe told us to go pray peacefully today."
'Torah study keeps our nation spiritually strong'
For other women of the haredi community, Torah study is the only way of life. "I want my husband to study Torah," said Eti, 33, whose family has lived in Jerusalem for 12 generations. She told Tazpit that her family descends from the disciples of the Vilna Gaon who immigrated to the Land of Israel in the early 19th century, settling in Jerusalem.
"The right to study Torah cannot be taken away from us – we've dedicated our whole life to this. It's absurd to think that this could be a criminal offense. There is nothing criminal about learning Torah," Eti added. "Stealing is a criminal offense but not Torah study – no one can take that away from us.
"We've seen throughout our history and biblical times, that there were Jewish soldiers and Torah scholars. It's the Torah study that keeps our nation spiritually strong. We need both to maintain our existence here," Eti believes fervently.
"God will hear our prayers," she concluded.
But for others, like Jerusalem high school student Inbar Oz, 15, the fact that her two older brothers serve in the IDF to protect the nation is not morally right when not all Israeli citizens do so. "Everyone has to share in this task. It's not fair that only some of us do this," she said. "We all have a responsibility to protect our country."
Reprinted with permission from the Tazpit News Agency