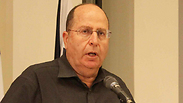 Defense Minister Moshe Ya'alon during briefing.
Photo: Ido Erez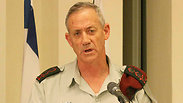 IDF Chief of Staff Benny Gantz during the briefing.
Photo: Ido Erez
Iran's military denied Wednesday Israel's claim that it captured shipment of dozens of advanced rockets originating in Iran and heading for Gaza.

An Iranian military official denied the claim to Al Mayadeen, a television channel associated with Hezbollah, while Iran's semi-official Fars news agency, close to the country's elite Revolutionary Guard force, also denied the claims, calling it "mere lies."

Israeli Navy commandos seized the ship carrying advanced rockets on Tuesday night. Elite troops from the Israel Navy's Shayetet 13 unit boarded the ship in open waters on the maritime border of Sudan and Eritrea, some 1,500 km south of Israel.

"Iran is the number one terror exporter in the world – in this case the destination is the Gaza Strip, on other cases it's Hezbollah, Afghanistan, Iraq, Syria etc.," Defense Minister Moshe Ya'alon said Wednesday in a press briefing on the raid.

"Iran smiles to the world to try to reach accords with the West. I hope that Western leaders learn a lesson from this operation," Ya'alon added.

Related stories:

IDF Chief of Staff Benny Gantz said it was no news Iran was supplying weapons to its allies.

"The operation went through boldly yet intelligently and we managed not only thwart the transfer of arms, but to also expose Iran's terrorist activity inside-out. The magnitude of arms and ammunition yet to be revealed will expose the serious impact it would have had on Israel," Gantz noted.

The Klos C Iranian vessel was sailing under a Panamanian flag, making its way to Sudan from Iran carrying a cargo of advanced rockets capable of reaching distances of up to 200 km.

An initial inventory by Israel revealed a large supply of rockets, including the Iranian-made 302m, which hit Haifa during the 2006 Second Lebanon War.

"The M302 in its most advanced model can strike over 100 miles, and if they would have reached Gaza, ultimately that would have meant millions of Israelis under threat," IDF spokesman Lieutenant-Colonel Peter Lerner told reporters.

The operation, codenamed "Full Disclosure," followed months of intelligence gathering.

Lerner said the Iranians tried to "obscure their tracks" by shipping first via Iraq and then out to sea. Had they reached the African coast, they would have probably been smuggled overland through Egypt to Gaza, he said.

Gaza is ruled by Hamas, an Islamic militant group that already possesses thousands of rockets. A number of smaller groups, including the Iranian-backed Islamic Jihad, and al-Qaida-inspired groups also possess rockets. All have engaged in frequent rocket fire toward communities in southern Israel. The military did not specify to which group the latest shipment was believed to be destined.

Hamas was quick to dismiss the IDF announcement, calling it a "silly joke".

"This is a new Israeli lie aimed to justify and prolong the blockade of Gaza," said Taher Al-Nono, an advisor of Hamas Prime Minister Ismail Haniyeh.

Ynetnews contributed to this report.