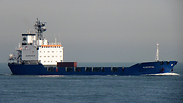 Israel seized an Iranian ship carrying advanced weapons destined for Gaza on Tuesday night and towed it to the Eilat port, the IDF said Wednesday. Elite troops from the Israel Navy's Shayetet 13 unit boarded the ship in open waters on the maritime border of Sudan and Eritrea, some 1,500 km south of Israel.
The Klos C Iranian vessel was sailing under a Panamanian flag, making its way to Sudan from Iran carrying a cargo of advanced rockets capable of reaching distances of up to 200 km.
IDF Spokesperson's Unit simulation of events:
The Iranian cargo ship carrying arms for Gaza left port ten days ago and was on track to dock in Sudan on Thursday. The 17 crew members on board – representing a variety of nationalities – are being investigated for their involvement in the attempted smuggling operation. Their questioning is expected to continue in Israel.
Iranian Arms Shipment
PM: Iran smiles, but arms terrorists with lethal weapons
Attila Somfavli
Netanyahu praises Mossad and IDF for 'perfect operation to intercept a secret Iranian weapons ship.' Israel plans to use event to make case against nuclear Iran by remaining world of its support of terrorist groups
The ship was supposed to reach port in Sudan on Thursday, some 10 days after it left Iran. An initial inventory by Israel revealed a large supply of rockets, including the Iranian-made 302m, which hit Haifa during the 2006 Second Lebanon War.
The rockets originated in Syria, the IDF said, where Iran is known to store large arsenals. The rockets were flown from Syria to Iran, where they were loaded on the ship that then departed for Iraq where the arms were concealed in boxes of cement.
From the Iraqi port of Umm Qasr it sailed into the Red Sea around the Port of Oman, bound for Sudan. The ship's progress was closely tracked by the IDF as it sailed.
"There is clear evidence from the ship that these are rockets for which Iran is responsible," a senior IDF source said Wednesday. "The rockets were ... intended for terror groups in Gaza."
The interception operation was conducted under the real-time supervision of IDF Chief of Staff Benny Gantz and Defense Minister Moshe Ya'alon, both of whom were present at an IDF command center.
The army said in a statement that last night, after receiving the cabinet's approval, Chief of Staff Gantz ordered IDF forces to "thwart the operation to transfer ammunition to terror organizations in the Gaza Strip." According to IDF, the operation's success "was made possible due to high quality intelligence."
Navy commandos raided the ship at sea, in accordance with international law, and searched it for ammunition. the IDF said.
"The IDF will continue to fight against the regional arms race led by Iran in an attempt to ignite the region, and will act relentlessly with every means possible to make sure the Israeli people are safe," the statement from the IDF Spokesman's Office continued.
Hamas dismissed the Israeli announcement as a "silly joke".
"This is a new Israeli lie aimed to justify and prolong the blockade of Gaza," said Taher Al-Nono, an advisor of Hamas Prime Minister Ismail Haniyeh.
Arms transfer
Israel has long claimed that Iran is transferring arms to terror groups around the world, namely Hezbollah in Lebanon and Hamas in the Gaza Strip, through Sudan and Yemen.

Last April, the Egyptian navy seized a vessel carrying a large arms shipment near the Sinai Peninsula's southern coast. The Anatolia Turkish News Agency reported the ship is an Iranian fishing vessel named "Sawit 1," and reported that 62,283 firearms were found in its cargo, including sniper-rifles, AK-47s, RPGs and large quantities of ammunition.

Related stories:

In 2009, the navy's commando force stopped and boarded the Francop, a ship planning to dock in Syria containing massive amounts of Iranian arms indented for Hezbollah.

The most famous such operation was the interception of the Karin-A ship in the Red Sea in 2002. On board tons of munitions were captured en route from Iran to Gaza.

Earlier Wednesday Iran said its powerful Revolutionary Guard has acquired missiles with multiple warheads, a step that it says is a major boost of its defense capabilities.

The claim by Defense Minister Hossein Dehghan is the latest reported advance in Iran's domestic missile production program.

He says Western sanctions have not stopped Iran from augmenting its ability to deter its enemies from attacking the Islamic Republic, a reference to Israel and the US.

His comments were posted on the Guard website, sepahnews.com, Wednesday.

Iran regularly announces breakthroughs in military technology that are impossible to independently verify. But the Pentagon released a rare public report in 2012 noting significant advances in Iranian missile technology, acknowledging that the Islamic Republic has improved the accuracy and firing capabilities.