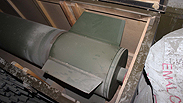 Rocket onboard Iran weapons ship
Photo: IDF Spokesman
Shortly after the IDF confirmed that it had seized a weapons-laden ship bound from Iran to Gaza on Tuesday night, a Hamas spokesman called it a "stupid joke," accusing Israel of lying in order to justify and expand its blockade on Gaza.

Such a claim makes sense from Hamas' perspective, given that it was not the group for whom the weapons were destined, nor did it know about them.

Related stories:

Not one of the multitudes of press briefings the IDF has given to the Israeli and international media since the ship was seized has specifically mentioned who in Gaza was expecting the missiles. (Then again, the IDF has not said that they were going to Hamas, either.)

Defense Minister Moshe Ya'alon is the only Israeli official to even give as much as a hint about who was awaiting the delivery.

"What has emerged from this operation is that there is a terrorist entity, an Iranian arm, that is funded, trained and armed by Iran," he said.

In other words, the intended recipients of the missiles was Islamic Jihad, a terrorist group closely tied to Iran.

Much has been written about Hamas' sorry state in the regional arena today. Its once solid relationship with the Syrian regime dissipated over the group's support for the rebels seeking to oust President Bashar Assad. Hezbollah and Iran, both allies of Assad, followed suit and turned their backs on Hamas, and Tehran cut its financial support.

Tensions between Hamas and the new rulers in Egypt has been growing with each passing week. Just yesterday a Cairo outlawed the group in Egypt, branding it a terrorist organization. It is a far cry from the cozy relationship Hamas enjoyed with former Egyptian President Mohamed Morsi of the Muslim Brotherhood, Out of which Hamas grew.

The route of the smuggled weapons - from Syria to Iran, and then supposedly to Sudan and overland through Egypt and the Sinai into Gaza - strengthens the assumption that Hamas would not have been the final address. It is unlikely that Damascus and Tehran would make any effort to strengthen Hamas, and it's hard to believe that Hamas, in its current weakened political situation, would risk the transfer of advanced rockets over Egyptian soil.