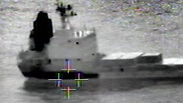 The Klos C
Photo: IDF Spokesperson's Office
There may be an air of festivity among the defense establishment in Israel over the successful operation to seize an Iranian weapons ship. But the way back to Israel is still perilous for the troops escorting the Klos C, captured Tuesday night 1,500 km from Israel's shores.

The IDF has not yet ruled out the chances of an attack on the flotilla of Israel Navy gunships accompanying the Klos-C on its journey to port in Eilat.

IDF knows that the early announcement of the operation could make the trip home more perilous, and even invite attacks. The flotilla will follow a narrow route, past the shores of hostile locations such as Sudan, Eritrea, Saudi Arabia and even Egypt's Sinai Peninsula, where Jihadist cells are active. Fearing attempts to fire missiles on the ships, the flotilla is accompanied by an IAF unmanned aerial vehicle.

Related stories:

The ships are expected to arrive in Eilat overnight Saturday, and only then a full inventory of the 150 containers on the Klos-C can be completed. Troops from the IDF Engineering Corps' Yahalom Brigade are waiting in Eilat to deal with both the long-range M-302 missiles and the massive amounts of ammunition such as mortars, rockets and machine gun rounds.

After days of surveillance far out to sea, Israeli Shayetet 13 commandos seized the merchant vessel that had set sail from Iran, heading for Gaza via Iraq and Sudan. Onboard, the commandos found the long-range missiles concealed in containers full of concrete. Hundreds of combat troops participated in the operation, as well as two missile boats, a 193 Squadron rescue helicopter and IAF drones.

The 17 crew members on board – representing a variety of nationalities – are being investigated for their involvement in the attempted smuggling operation.

Israeli Navy prepares for takeover of Iranian ship (צילום: דו"צ)
Full Disclosure
The Navy did not take any risks ahead of "Operation Full Disclosure", and prepared to handle a variety of complex scenarios. Reserve soldiers and Satil (missile ship) Special Forces who took part in the operation are now sailing the Klos C, having received special training to do so.
One of the primary scenarios the Navy had prepared for was a violent confrontation with armed Iranian guards. The main concern was that soldiers would be wounded, and the great distance from Israel ruled out the option of calling for backup or an evacuation. Therefore, two rooms on the missile ships were equipped with the most advanced medical equipment, and dozens of doctors and paramedics took part, along with a IAF rescue helicopter able to cover short distances.
Another scenario was the possibility that crew members or other persons who had sailed to the scene in small boats would then engage in disorderly conduct. This is where the lessons of the Mavi Marmara raid of May 2010 came into play, and troops were equipped with riot control gear.
Another lesson from previous operations was the need to fully document the operation, which also gave the operation its name. Cameramen from the IDF Spokesperson's Unit were deployed alongside the commandos, and footage of the takeover was quickly sent back to the Kirya, the IDF's central base in Tel Aviv.
Vice Admiral Ram Rotberg, the commander of the Israeli Navy, who oversaw the operation, and IDF Chief of Staff Benny Gantz, who was at the Kirya, were also wearing microphones that documented their exchanges during the operation.
One other central concern was that foreign networks would break the news of the operation before the IDF, thereby presenting an image to the world by of a violent Israeli Navy forcibly overtaking an innocent merchant ship.
That was not the case, however, and the army was able to keep the lid on the operation until it lifted the gag order at 1:30 pm on Wednesday, Israel time.