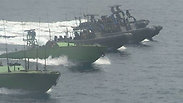 IDF seizing Iranian arms ship
Photo: IDF Spokesperson's Unit
The IDF has begun unloading and scanning some 150 containers onboard the Iranian weapons ship Klos C on Saturday evening.

Based on past experience in which the Iranians booby-trapped some of their smuggled arms crates, the army is sending elite combat engineering unit Yahalom to examine the ship's cargo first, so they can disarm any bomb.

After that, Navy fighters will extract the dozens of long-ranged M-302 missiles that were planned to reach the Gaza Strip, as well as examine whether the ship was carrying additional arms, such as mortars and machine gun ammunition.

Chief of Staff Benny Gantz was making his way to Eilat on Saturday evening in order to meet and speak to the Shayetet 13 commandos who took over the ship.

Iranian weapons ship Klos C arrived at the Eilat Port Saturday accompanied by Israeli Navy ships INS Hanit and INS Hetz. The ship was captured early Wednesday morning ferrying Iranian-made M-302 rockets bound for the Gaza Strip.

Iranian arms ship arrives in Eilat (צילום: דובר צה"ל)

A press conference exposing the weapons will be held on Monday. Foreign military attaches and ambassadors were invited to join the event.

Following the public viewing of the contrabound found on the ship the Klos C and its 17 crew members will be free to leave.

"They are on the ship. They will remain with the ship. Given that they have no hand in the arms smuggling, they will continue on their way," Israeli Admiral Oded Gur-Lavi told Reuters.



Operation "Full Disclosure" to capture the Iranian arms shipment was conducted by elite troops from the Israel Navy's Shayetet 13 unit, who boarded the ship in open waters on the maritime border of Sudan and Eritrea, some 1,500 km south of Israel.

The Klos C Iranian vessel was sailing under a Panamanian flag, making its way to Sudan from Iran carrying a cargo of advanced rockets capable of reaching distances of up to 200 km.

Meir Ohayon contributed to this report.