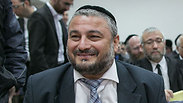 Fraudulent re-election in October of Mayor Moshe Abutbul infuriated liberal townspeople
Photo: Ohad Zwigenberg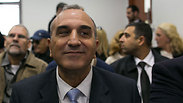 Abutbul's rival, Eli Cohen
Photo: Ohad Zwigenberg
When Beit Shemesh goes to the polls on Tuesday, the vote may decide more than a bitter mayoral race. Many see it as a bellwether for the strained secular-religious relations throughout the Jewish state.

Municipal votes rarely raise passions in Israel, but this one - a rerun of an election last October - is different. Two courts ordered it after finding voter fraud in the original ballot that returned the ultra-Orthodox mayor to office.

Election Day

Op-ed: For torn city's non-haredi population, Tuesday's mayoral election is last opportunity to curb haredization process.

Now more liberal voters in the town of 80,000 are mobilizing to topple the incumbent and, they hope, stem the influence of religious zealots they see as a growing challenge.

"This election is our last chance to save Beit Shemesh," said Noa Kedmi, 28, who has lived in the town for eight years.

The town 35 kilometers (22 miles) west of Jerusalem gained notoriety in 2011 after an eight-year-old girl from a more liberal religious community was spat at by ultra-Orthodox men who deemed her clothes immodest. Several protests, some violent, have erupted over religious issues since.

To walk between neighborhoods is to cross cultures, with strict dress codes, sex segregation and Sabbath closures vigorously enforced on some ultra-Orthodox streets and the more relaxed ways of mostly secular Israel on others.

Kedmi lives unhappily on the edge of one ultra-Orthodox zone. "I'm yelled at every day. I'm scared of walking down the street. There are roads I can't drive down on the Sabbath and I have to choose my clothes carefully before I go out," she said.
Voter fraud
The fraudulent re-election in October of Mayor Moshe Abutbul infuriated liberal townspeople.
"When I saw he won I welled up in tears," said Meital Cohen, 29, a kindergarten teacher, who after the new ballot was announced joined the campaign for Abutbul's rival, Eli Cohen.
"This town is not developing. I was born here, all my friends have left Beit Shemesh. I look at the ultra-Orthodox areas and they are kept up, clean, while the older Beit Shemesh is run-down and neglected."
Abutbul denies he favors the haredi areas, saying he has developed all parts of the town.
Beit Shemesh's original population was largely secular and working-class, with many Jewish immigrants from elsewhere in the Middle East. But it has changed greatly in the past 20 years, with immigrants from the former Soviet Union, the United States and moderately religious middle-class folk moving in.
Ultra-Orthodox Jews, also known as haredim, a term in Hebrew which means "those who tremble before God," also began settling in Beit Shemesh in the 1990s. Estimates say they now make up about 40 percent of the town's population.
Abutbul says the haredi community is being unfairly branded by the actions of a small extremist band of zealots who were involved in the town's most notorious confrontations.
"It pains me a lot," he told Reuters. "People are willing to vilify an entire community for a political profit. There's no street war here. The atmosphere is inviting."
But he acknowledged the town's fate had wider implications for Israel, which while predominantly secular, often witnesses tension between Western liberal values and traditional tenets.
"It is true that in such a mixed town there are sometimes outbursts - after, all this is a microcosm of the entire country," Abutbul said.
'Stifling'
A few streets down from city hall, rival candidate Cohen's campaign office is covered in black and yellow posters that read "Beit Shemesh will triumph over the extremists."
"There is a central issue at stake here. What will daily life look like? Will it be free and democratic while respecting all sectors, or will one group coerce its own outlook and way of life onto others? Beit Shemesh is a model. What happens here will happen soon in other places in Israel too," he said.
Some in the haredi community think anger toward them is part of a wider anti-religious sentiment sweeping across Israel. Haredim make up about 10% of Israel's eight million population.
They are mostly poor and unemployed, with many men pursuing religious studies for life rather than working. They get small state stipends for this traditional life of study and child benefits for their large families.
Many Israelis resent the haredim, who they see as burdening the economy and sponging off the state while avoiding duties, such as compulsory military service, that bind most others.
For the first time in a decade, Israel's governing coalition has no ultra-Orthodox members watching out for haredi interests. In fact, it includes parties that made significant gains running on an anti-religious platform in the 2013 general election.
Shmuel Pappenheim, a haredi columnist and member of one of the most strict ultra-Orthodox groups in Israel, said his community feels besieged and must fight back.
"The Israeli public is scared of the haredim, who they see as alien, anti-modern," Pappenheim said. "It is stifling.
"They are taking away our identity, while we are trying to teach our children that we are keeping a tradition passed down from Moses at Mount Sinai from generation to generation."