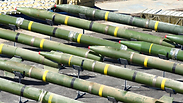 Seized missiles
Photo: Motti Kimchi
Netanyahu: Like Iran hid arms, it's hiding nuclear ambitions
At public display of armament haul seized from Iranian ship, PM blasts international community's hypocrisy, says they want 'to ignore Iran's continued aggression,' adding that the world must use the event to see the country's true intentions.
Prime Minister Benjamin Netanyahu was in Eilat with Defense Minister Moshe Ya'alon and IDF officials to showcase the cache of weapons seized from an Iranian arms ship some 1,500 kilometers away from Israeli shores last Wednesday.
Addressing an audience of diplomats and military officials, Netanyahu warned of the dangers entailed by these arms and warned that they prove Iran – despite its 'smile offensive' – has remained a hostile regime.
Related stories:
During the press conference, the prime minister lashed out at what he saw as the world's hypocritical nature: "The international community wants to ignore Iran's continued aggression and the part it plays in the execution of the massacre in Syria. They want to delude themselves that Iran has abandoned its intention to obtain nuclear weapons."
Weapons placed on display (צילום: רועי עידן)
According to the prime minister, Iran's guise feeds a larger moral hypocrisy prevalent today. "We build a balcony in some Jerusalem suburb the world screams and shouts, the world is hypocritical," Netanyahu said, adding that the world must use this event to see the true nature of Iran's intentions.
Netanyahu continued and drew a parallel between Iran's bid to conceal weapons on the ship and its bid to achieve nuclear arms: "Like Iran hid these weapons, Iran is hiding its nuclear program. The world must awake and prevent Iran from attaining nuclear weapons."
Commenting on the lethal nature of the captured cargo of long range missiles, Netanyahu said "These rockets could have hit Tel Aviv, Jerusalem and even the suburbs of Haifa."
According to the prime minister, the event exposes the deceit behind Iran's new diplomatic efforts, intended to normalize relations with the West.
"There are those who wish we do not hold this news conference today, they feel uncomfortable that we show what is really happening inside Iran. They prefer we keep nurturing the illusion that Iran has changed directions," Netanyahu said.
Those people, Netanyahu claimed "are not willing to recognize that Iran did not abandon its ambitions to destroy Israel…These arms were intended to terrorist in Gaza bent on destroying Israel."
Netanyahu further claimed that "(Iran) does not want us to present the lies behind their smiles. The facts we see on this dock prove (there is no change in Iran). The falsified bill of laden show Iran wanted to conceal the content on the shipment."
Exporting terror
Defense Minister Moshe Ya'alon echoed the claims made by the prime minister and pointed to the illegality of Iran's activities and slammed its international "terror exporting" activities.
"There is no conflict in the region that Iran is not feeding. From Afghanistan through Bahrain to Syria, Lebanon and in this case Gaza. But its not just Middle East, we see them taking advantage of a civilian cargo ship breaking international trade laws, it also uses its diplomatic immunity to smuggle materials to south America, which has nothing to do with Israel."
According to Ya'alon, despite what he called Iran's "charm offensive and smiles," the Islamic republic is in fact the "biggest exporter of terror in the Middle East and throughout the world."
The event, intended to return the arms capture back to the limelight after it was overshadowed by the events in Ukraine, was attended by a host of senior Israeli officials and a variety of foreign dignitaries.
Iranian weapons ship Klos C arrived at the Eilat Port Saturday accompanied by Israeli Navy ships INS Hanit and INS Hetz. The ship was captured early Wednesday morning ferrying Syrian-made M-302 rockets bound for the Gaza Strip in a mid-sea raid not far from the Port of Sudan.