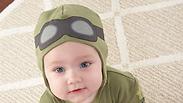 Boys will be boys (archives)
Rabbi Aharon Leib Shteinman, one of the leading Orthodox Lithuanian rabbis, has issued a halachic ruling stating that baby boys must not be dressed up as girls, and vice versa.

According to haredi media reports, Rabbi Shteinman's ruling came after he was asked ahead of the Jewish holiday of Purim whether a baby boy could be dressed up as a girl.

Haredi Battle

Amid war against draft law, parents of students in Jerusalem's Talmud Torah schools ordered not to dress their children up as soldiers this year.

The rabbi ruled that although the Torah does not prohibit it, it was inappropriate, as a child's gender should remain the way God created it. The rabbi added that in the discussed case, which involves a boy who will have to observe mitzvot in the future, it would be wrong to change his gender as part of a costume, as women have to observe less mitzvot than men.

It should be noted that in the countries Ashkenazi Jews came from, it was customary for men to wear women's clothes and women to wear men's clothes on Purim. The reasoning was that the prohibition preventing men to dress up as women and vice versa was only valid when it was done "for purposes of adultery and prostitution. But when the purpose is joy, there is no prohibition."