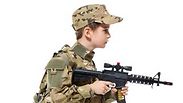 The IDF soldier outfit is one of the most popular Purim costumes among haredi kids
Photo: Shutterstock
Schools for Torah study in Jerusalem are banning children from dressing up as IDF soldiers during the upcoming Jewish holiday of Purim.

The young students' parents received a letter from the educational institutions' principals this week,

Holiday Campaign

In unique cooperation, Anti-Drug Authority and senior religious Zionist rabbis call on youth to avoid excessive alcohol consumption during holiday

stating that "as we are experiencing a time of 'destruction decrees' and after consulting the rabbis, it was decided not to allow Talmud Torah students to wear a soldier's costume under any circumstances."

The schools' principals included the list of rabbis they consulted before sending the letter.

Israel's ultra-Orthodox sector is currently engaged in a battle against a proposed military enlistment law, which aims to make the haredi community part of the country's compulsory draft.

The IDF soldier outfit is known as one of the most popular Purim costumes among haredi children in Jerusalem.