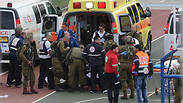 Injured soldiers receiving treatment near border
Photo: Avihu Shapira
While the IDF continues investigating the event in which an explosive device on the Israel-Syria border injured four soldiers, one of whom is in serious condition, Al-Arabiya reported that the goal of the operation was to kidnap an Israeli soldier.

The IDF stated that "harsh comments" were made by the UN force on the field to the Syrian government. "The IDF reserves the right to operate in whatever way and time it sees fit in order to protect the citizens of Israel," a statement on behalf of the army read.

Related stories:

Around 2 pm on Tuesday, an army patrol of two armored jeeps drove along the border in a mountainous area that is difficult to control and observe. The area was highlighted by the IDF as troublesome due to its complex terrain which has already been abused in the past to place explosives aimed at IDF forces. The assumption of the troops in the area, according to a senior army officer, is that "it's a matter of time until the next attack."

The incident occurred after the force spotted a suspect figure in the Israeli area east of the border fence. The soldiers exited their vehicles – and then the explosion took place.

It is a similar attack to the one carried out by Hezbollah during the times the IDF was in Lebanon: Lure soldiers to approach the scene on foot and then detonate explosives while the targets have minimal shielding.

The device used Tuesday contained thousands of fragments and cells, and in order to rule out a kidnapping attempt, IDF cannons immediately fired heavily in order to mask the area. Within minutes, tanks shelled towards Syrian outposts, and Tamuz missiles hit more distant positions.

The army is investigating whether the explosive device was detonated by remote control and is expected to refine the operation procedures along the border fence, which has become a hot scene similar to Gaza. The IDF further noted the presence of many Syrian shepherds who approach the border fence and at times enter Israeli territory, and are escorted out by Israeli soldiers of fear they are collecting intelligence.

It is still unclear whether the attack was led by Hezbollah or carried out by jihad forces attempting to push the IDF to fight against the Syrian army, which is still controlling the northern Golan Heights border area.

Prime Minister Benjamin Netanyahu commented on the incident during a Likud meeting Tuesday and promised to respond.

"Recently, the border with Syria has become filled with jihadists and Hezbollah men which pose a new challenge for us to deal with. We managed to keep the peace along the Syrian border despite its ongoing civil war, but we will act firmly, if needed, to maintain Israel's security," Netanyahu said.