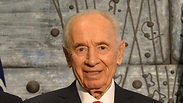 President Shimon Peres
Photo: Mark Neiman, GPO
President Shimon Peres has sent Iranians his traditional greeting for the Persian New Year despite tensions between the two countries over Tehran's nuclear program.

Shimon Peres on Thursday wished Iranians a happy Nowruz, reaching out to them on Persian-language radio stations and his social network sites.

President Shimon Peres' greeting

March 21, the first day of spring, marks Nowruz, the beginning of the year 1393 on the Persian calendar.

Peres, a Nobel Peace Prize winner, spoke in English and Persian, saying the two countries "respect culture and human dignity" and seek to "live in peace and understanding."

Related stories:

Israel views Iran as an existential threat because of its controversial nuclear program and support for militant groups such as Hezbollah and Hamas.

This month, Israel seized a ship it said was carrying Iranian weapons for Gaza.
Obama's Nowruz message
President Barack Obama sent a video message to Iranians on Thursday to say there is a chance to reach a nuclear agreement with Iran if Tehran takes verifiable steps to assure the West its nuclear program is for peaceful purposes only.
"I'm under no illusions. This will be difficult," Obama said in a message to mark the Iranian holiday Nowruz. "But I'm committed to diplomacy because I believe there is the basis for a practical solution."
The United States and five other major powers are trying to reach a comprehensive deal to deny Iran a nuclear bomb capability after reaching a six-month temporary deal implemented on Jan. 20.
Under that deal, which can be renewed, Iran agreed to curb its nuclear program in return for gaining access to more than $4 billion in oil revenues that had been frozen by Western sanctions.
Obama's Nowruz message was aimed at fostering good will with the Iranian people and encouraging them to welcome a nuclear agreement.
"There is a chance to reach an agreement if Iran takes meaningful and verifiable steps to assure the world that its nuclear program is for peaceful purposes only," he said. "Iran would have access to peaceful nuclear energy."
Obama's Iran overture is not without controversy in the U.S. Congress. A wide majority of U.S. senators this week urged Obama to insist that any final agreement state that Iran "has no inherent right to enrichment under the Nuclear Non-Proliferation Treaty."
In his Nowruz message, Obama said a comprehensive agreement would help move Iran along a new path and ease the economic hardships that sanctions have caused.
"If Iran meets its international obligations, we know where the path of dialogue and greater trust and cooperation can lead. It will mean more opportunities for Iranians to trade and forge ties with the rest of the world," he said.
Negotiators from Iran and the United States, France, Germany, China, Russia and Britain held talks on Tuesday and Wednesday in Vienna. The meeting was the second in a series that the six nations hope will produce a settlement on Iran's nuclear program and lay to rest the risk of a new Middle East war.