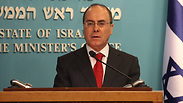 Silvan Shalom
Photo: Gil Yohanan
Silvan Shalom, the former foreign minister and former deputy prime minister, has been named Monday as the senior member of the government accused of committing sexual offences some 15-years ago.

Israeli media has reported the allegations against the energy and water minister on Sunday but his name remained under gag order until Monday afternoon.

The police has launched an investigation into the allegations.

The report by Israel Radio's Adi Meiri claimed Attorney General Yehuda Weinstein had received the complaint last week and was currently in the midst of a preliminary investigation. The Justice Ministry confirmed the report.

Weinstein will have to decide if the case can still be prosecuted despite the fact more than a decade has passed, and in recent days he has held a number of meetings with Justice Ministry and State Prosecutor officials to decide how to proceed.

Army Radio sent the complainant, who used to work as a secretary in Shalom's office, to two different polygraph (lie detector) tests. In the first test - in which the complainant was not asked questions about sexual intercourse - she was found speaking the truth. In the second one - in which she was asked about sexual offences - she gave inconclusive answers and was found to have a tendency to lie.

Speaking to Army Radio, the complainant claimed the alleged sexual offences happened while she and the minister were at a hotel room some 15 years ago. She claimed that Shalom, who was wearing a bathrobe, asked her to sit next to him.

Shalom and sources close to him said they did not know who the woman was, and were unfamiliar with her name.

The sources said this was an attempt at a "well calculated and well engineered political assassination."

"This feels like a nightmare. There's an attempt to hurt him," one source said. "A ghost is brought back that the minister doesn't even know."

"House of Cards is nothing compared to what is going on in Israeli politics," Shalom's adopted son Nimrod Nir wrote on Facebook, referring to the popular Netflix show about a corrupt politician climbing his way up the ladder through unorthodox means. "This is an attempt to frame a senior minister with rape."

"This is a fictitious and imaginary campaign that besmirches the most honest man in Israeli politics. The people are not that stupid - (they can see the truth in) the timing, lies and the carelessness of the framing attempt," Nir wrote in a Facebook post that has since been removed.