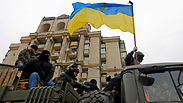 Protestors at Kiev's Maidan Square. 'Amazing blindness is being repeated again'
Photo: Reuters
VIDEO – A host from Russian-state television channel Rossiya 24, Evelina Zakamskaya, has made comments that are sure to enrage the Jewish community across Europe and beyond, suggesting that Jews brought the Holocaust on themselves.

"It's strange that these Jewish organizations – European and our Russian ones – support the Maidan," Prokhanov said in an interview with hawkish writer Aleksandr Prokhanov. "What are they doing? Don't they understand that with their own hands they're bringing a second Holocaust?"

Zakamskaya replied, "And it wouldn't be the first time they brought it either."

Video courtesy of jn1.tv

"It's an amazing blindness that is being repeated again," Prokhanov added. "Until 1933 many liberal European organizations fed the Fuhrer."

Ukraine Crisis

Despite recent attack on rabbi, Ukraine's Jewish leaders attempt to dispel allegations: 'There's a difference between nationalism and Nazism.'

Since Russia invaded Crimea, Russian state television has continually broadcast, and at times even supported, Russian President Vladimir Putin's justification for annexing the peninsula from Ukraine: Namely, that Russia needs to protect Russians from the new Ukrainian government of fascists and anti-Semites.

But, leading Jewish organizations in Ukraine have repeatedly said Jews don't need protection and are not being persecuted. Chief Rabbi of Ukraine Jacob Dov Bleich has demanded that Russian authorities stop labeling the protest leaders of Ukraine as fascists.

America's special envoy for combating anti-Semitism, Ira Forman, said Russia's statements on anti-Semitism were not credible.

Renowned French author Bernard-Henri Levy has gone out of his way to debunk Kremlin propaganda that the three-month protest on Independence Square in Kiev signals the return of fascism to Europe. According to Levy, who spoke to protestors in Kiev last month, the only signs of anti-Semitism came from the Berkut riot police, who denounced the alleged "Jewish origins" of the protest leaders.