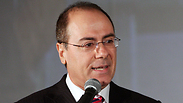 Silvan Shalom. 'It doesn't take more than this to completely destroy political aspirations'
Photo: Avishag Shaar-Yashuv
I'm sorry, some of my fellow women journalists. I know it's not acceptable for a woman to write against what you see as a holy mission, but sometimes, dear sisters, your vigorous activity creates a sense of discomfort.

I know that the criticism will follow quickly and that it will cover a wide spectrum of issues: From the accusation that I am defending the attacker rather than the victim, to the firm declaration that it's obvious that I would write such things for Ynet, to which the suspect's wife is connected. Yes, the "suspect" whose status you have already determined before having a single piece of evidence against him, apart from a dubious lie-detector test.

Abuse of Power?

Energy and water minister allegedly committed crimes some 15 years ago; AG investigating claims, to decide whether or not case can still be prosecuted.

Well, my fellow women journalists, I have not a single sentiment towards Silvan Shalom or his wife Judy that would have prevented me from writing my opinion. And this is exactly what I'm doing: Writing it. And my opinion is that after the last two cases – against journalists Emanuel Rosen and Sharon Gal – I would have expected you to practice a bit more caution. Two cases which ended with nothing, but managed to destroy two people's careers while you failed to deliver the goods.

And so, when an event which took place or did not take place 15 years ago is conjured up exactly as Shalom is about to announce his candidacy for the position of Israel's president – when it's clear that it doesn't take more than this to completely destroy his political aspirations – it stinks.

The complainant, according to the reports, cannot bear the thought of him sitting in the President's Residence. Assuming that the event did take place, is it okay that he's a senior minister? Is seeing Shalom tour the world as foreign minister or run for prime minister or Likud leader bearable?

I'm sorry, sisters. It takes a bit more than this to destroy a person. Every child understands that even if the investigation ends with nothing, Silvan Shalom will not be president. So it's understandable that people suspect there is someone behind the complaint. And I would like to take this opportunity to suggest, regardless of this case, that complainants whose complaint was proven to be unreliable are questioned. It's unthinkable that the full price will only be paid by the person who was the target of the complaint. What can you do, not all women are credible, just like not all men are sexual harassers.

And as for the attorney general, sometimes it seems that he has yet to decide who he is – a dawdling turtle or a lion rushing to swoop down on his prey. We would expect him, like we expect a good doctor, to make the right diagnosis and not act as though he was watching his own back. I think that in this case he could have told the complainant, gently, that the time that has passed and the timing she chose compel him to reject her complaint.

And as for the police investigation, come on. Has everything requiring investigation in this country already been investigated? Have all the criminals been punished? Is this what the police should be dealing with – a complainant who remembered to complain 15 years later at such a sensitive timing?

And in any event, it's becoming clear that the presidential race is getting more and more dirty. If we thought that this role was, how should I put it, a bit boring, we should probably consider it again. If this is what happened even before Shalom announced his candidacy, we are in for two heated months.