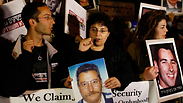 Bereaved families protest in Jerusalem.
Photo: Reuters
After an explosive debate at the Knesset Interior Committee on the release of Palestinian prisoners, some 150 people protested against the upcoming release in front of the Prime Minister's Residence in Jerusalem on Wednesday evening.

The protesters, some relatives of terror victims, were holding photos of their slain loved ones and called on the Israeli government: "Don't be suckers!"

"It is inconceivable that we will allow terrorists with blue (Israeli) IDs back on the streets of the Triangle, who could teach another generation to follow their lead. The government needs to reevaluate the fourth prisoner release," said Meir Indor, the head of the Almagor Terror Victims Association.

"Over and over again we make the same mistakes. We are bringing a disaster upon the bereaved families and sending a message to our children than Jewish blood is abandoned. We are sending a message to the Arabs that it is easy to murder us. We are increasing the cycle of terror by sending murderers out on the streets," said Gila Molcho, the sister of Ian Fienberg, whose killers were freed in previous releases.

Related stories:

"This nation knows how to unite when it is fighting for its life. Any attempt to force us to free killers is an attempt to make us give up our moral identities. We have to give combat soldiers the moral justification to risk their lives," said Yehuda Ben-Yishai, whose daughter Ruth Fogel was murdered with her husband and three children in an attack in Itamar.

Earlier Wednesday, the Knesset Interior Committee held a debate on the release of terrorists as a part of the peace process with the Palestinians.

Emotions ran high when MK Dr. Basel Ghattas (Balad) said settlements construction is the cause of terrorism while families of terror victims hurled abuse at him.

"People are gone, blew up on the streets. You have a lot of nerve," accused Alihai Ben-Yishai, Ruth Fogel's brother.

Omer Tamam, whose brother IDF soldier Moshe Tamam was murdered in 1984, wrote to Ynet opposing the upcoming release. Moshe's killers are expected to be released in the fourth stage,

"We've been carrying the pain and bereavement for this massive loss for 30 years," Tamam wrote.

"We, the bereaved families, are invisible to the public, and even more invisible to the country's leaders who just don't see us and have been completely ignoring our pain. We made several desperate attempts to set up an urgent meeting with the prime minister, but we keep running into a wall. The prime minister has no time for us, but he has time to participate in entertainment shows," he continued.