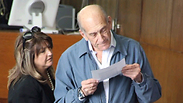 Olmert and Zaken. Failed to maintain her loyalty till the end
Photo: Motti Kimchi
Nothing good can be said about the most fascinating and surprising affair which has taken place here in recent years, or ever.

Nothing good can be said about the former secretary, the faithful woman and confidant, the secretary who served as an example for entire generations of secretaries and bureau chiefs in terms of a symbiotic relationship between a boss and his right hand, who decided at the last minute to open her mouth and deliver her master to the legal system.

Holyland Trial

Police opens investigation after Olmert's former aide Shula Zaken provided state prosecutor with recordings allegedly incriminating the former prime minister.

There is nothing good about a woman who, as her faith grows stronger, is revealed as corrupt down to the tips of her fingernails, and this relationship is increasingly revealed as give-and-take relations, which she used to her advantage while committing serious offenses of bribery and benefits.

But nothing good can be said about former Prime Minister Ehud Olmert either. If the things revealed these days and the new evidence obtained by the police and the State Prosecutor's Office are what has been revealed in the past few days in the media – these are extremely serious offenses, not to mention the offenses he is accused of in the Holyland affair, which the court is set to deliver its verdict on.

One can refer to the story between Ehud and his former secretary Shula by paraphrasing a sentence from Dashiell Hammett's book "The Maltese Falcon" – "the stuff dreams are made of." This is exactly the stuff films and plays are made of. I think that even Shakespeare would not have been able to write such an entangled and surprising plot, choose such complex characters and place perplexed and confused commentaries in the mouth of the Greek choir – a role successfully filled by the media.

And as for the stuff the legal system has been occupied with in the past few weeks, one can say that this is probably the stuff that even veteran legalists, who have already seen everything, never dreamed they would have to deal with: State's evidence obtained by the prosecution at the very last minute, while the judge is already busy writing the verdict.

In a normal case, the judge would have made things difficult for the prosecution and would not have allowed it to present such a witness. But here the prosecution will succeed in showing that it had made every effort to bring her earlier and had failed. And there is an explanation which one will find difficult to deal with: It failed to bring the witness because Olmert manage to persuade her not to accept a plea bargain. It's unthinkable, the prosecution will argue, that evil will be rewarded.
Olmert already sentenced by public
One affair after another, one case after another. The State Prosecutor's Office has already requested to postpone the ruling in order to allow Shula Zaken to testify, and it's unclear whether the judge will accept it.
In any event, we will likely hear about a new investigation launched into the obstruction of justice suspicions in the Holyland affair. Some will argue, and not just Olmert's supporters, that there is no end to this and that this is a case of ongoing persecution, chapter after chapter, like with the Lieberman affairs, and that when it seems one chapter has ended – another chapter pops up. But one cannot ignore the public need to listen to the woman who was once the closest person to Olmert, who is now claiming that the person who served in the highest public positions in Israel committed criminal offenses.
One can only hope that the State Prosecutor's Office is aware of the outward appearance of persecution and would not have dared become involved in a failed investigation, or even in another failed trial, unless it was convinced that Zaken's testimony could indeed lead to his conviction.
But Olmert's associates have a cause for concern: The State Prosecutor's Office did not rush to embrace Zaken and rejected her first attempt to turn state's evidence due to her weak testimony. Now, when the State Prosecutor's Office has decided to accept her testimony on the two issues – the Holyland affair itself and the new issue of obstruction of justice – it appears that Zaken has delivered the goods and provided the "golden evidence" required to turn state's evidence. In other worlds, the prosecutors believe that her testimony is fundamental, backed by additional evidence and has a reasonable chance of being accepted despite Zaken's dubious past when it comes to telling the truth.
Olmert's defense counsels will likely get caught in an intolerable situation when they are forced to cross examine her in order to prove that she is a liar. After all, how is it possible that a dishonest, manipulative and corrupt woman served in the bureau of a mayor, a senior minister and a prime minister for so many years? On the other hand, one can only imagine the amount of waste water which will come out of the mouth of Olmert's confidant. The woman who told him explicitly: I learned it all from you.
There is no need to say that Olmert has already been sentenced by the public. Even if he is declared innocent and cleared of all affairs, he will no longer be a public figure. For years, Olmert was considered among many circles as the smartest politician of all. They were probably right. But Olmert relied not only on his wisdom, but also on the admiration, devotion and loyalty of his employees and friends. He was probably right.
Until he wasn't. That is usually how criminals fall: Their loyal partners bring them down. And Olmert's mistake was that he failed to maintain Zaken's loyalty till the end. The interview given by Adv. Roy Blecher, one of Olmert's lawyers, to journalist Ilana Dayan, in which he accused Zaken of lying, will probably go down as the second most foolish decision in history.
The first place, by the way, is still reserved for former President Moshe Katzav's decision to complain to the attorney general that he is being blackmailed.