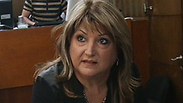 Shula Zakan: I have incriminating recording of former PM Olmert
Photo: Motti Kimchi
A former aide to Ehud Olmert on Thursday accepted a state prosecution ultimatum over jail time, as part of a plea bargain that would allow fresh charges to be brought against the former prime minister.
Shula Zaken has yet to sign an official agreement, but her consent to some 11 months in jail means that the prosecution can use evidence she has provided to charge Olmert with obstruction of justice.
The prosecution had told Zaken that her plea bargain must include a prison sentence or they would rescind the offer of a deal that could see her own corruption charges lightened.
As part of the plea bargain, the state prosecutor has agreed to rescind its appeals against her in the Rishon Tours case and in the Talansky case, both still awaiting court decisions.
Several hours after reaching a plea deal with Zaken, the state prosecutor requested to postpone the verdict in the Holyland case.
The state prosecutor also sought approval for an immediate investigation of former prime minister Ehud Olmert, after his once close confidant Zaken provided the police with a tape that allegedly incriminates her former boss in obstruction of justice. According to Zaken, Olmert allegedly tried to obstruct the investigation by trying to convince her not to sign a state witness agreement.
Sources in the state prosecutor said that they were seeking to postpone the verdict to allow Zaken to return to court in two weeks and testify against Olmert and provide the new evidence in the case.
The state prosecutor said the new evidence is of outmost importance to the Holyland case, and that time must be given for the newly-opened investigation to conclude and to allow the prosecution time to prepare for Zaken's testimony.
Olmert, the state prosecutor said, must be investigated before Zaken's testimony against him.
In light of the state prosecutor's request, Judge David Rosen has asked all sides on the case to respond to the request by Sunday at 4pm.
Zaken's plea deal can affect both the Holyland trial and any future charges against Olmert. If the state prosecutor is able to indict Olmert for obstruction of justice, Zaken's will become a state witness. In such a case she could not be charged.
'Lies and deception'
Olmert's inner circle strongly attacked his former bureau chief on Wednesday, after she testified against him as part of the plea bargain.
"There isn't a lie Shula Zaken wouldn't tell in order to save her skin from the court's ruling," an associate of Olmert told Ynet on Wednesday. "Zaken received hundreds of thousands of dollars in bribes that were used to buy jewelry, pay the mortgage on her house, interior decorating and savings accounts for her children – and admitted it was all without Olmert's knowledge,"
Zaken testified against her former boss Wednesday and thus ended weeks of speculation that she was attempting to make a deal with prosecutors in what is the latest twist in a slew of corruption trials against the former prime minister.
Olmert's associates also dismissed secret recordings she claimed to have as another desperate attempt by Zaken to save herself.
"Zaken tells another false story in order to save her skin as her previous lies were found to be fictitious and unworthy of attention. The same with the new story – this too will be proven false. After the facts are verified, it will be clear that Zaken had lied to the authorities and that Olmert didn't obstruct any judicial process or make Zaken do anything illegal."
Zaken arrived at the Lahav 433 anti-fraud unit offices on Wednesday to give testimony against Olmert, and reportedly claimed the former prime minister attempted to obstruct the police investigation against him.
The affair was uncovered in 2010, following an investigation of the police's anti-fraud unit, which described it as one of most serious corruption cases in Israel's history.
An indictment that followed the investigation alleged bribes were paid to Olmert, former Jerusalem Mayor Uri Lupolianski, former Bank Hapoalim CEO Dan Dankner and 13 other defendants, to promote the Holyland building construction project in southwest Jerusalem.
According to affiliates close to Zaken, she gave the police an incriminating recording of Olmert proving as much.
Her testimony came only five days before a Tel Aviv District court was set to announce its verdict in what has been called the "Holyland Affair".
In light of Zaken's testimony and alleged incriminating recording, the state prosecution was examining the possibility of indicting the former prime minister for obstruction of justice, as well as other charges.
In return for her testimony, Zaken could receive a plea bargain, removing some of the more serious charges against her. Reports of such a deal between Zaken and prosecutors have been rampant in recent weeks, but after prosecutors rejected Zaken's testimony a few weeks back it was assumed that no such deal had materialized.
Zaken spoke to the police a few weeks ago in a bid to gain immunity for herself and become a state witness in the affair. However, prosecutors decided the information she supplied was too general and could not be corroborated by external evidence, and thus her attempt was deemed too little too late.
As a result, the Movement for Quality Government petitioned the Supreme Court to fight the prosecutors' decision to bar Zaken from testifying again. A court session held on the matter two days ago revealed that Zaken and the prosecutors have been conducting secret talks together with the police.
An investigation is currently underway, reportedly focusing on new information Zaken supplied in regards to Olmert, possibly in other cases in which he is currently implicated.
Meanwhile, the prosecution was looking into the possibility of asking Judge David Rosen to postpone the verdict in a bid to incorporate the incriminating recordings into the case, but chances of this are low.
In response to the report, Olmert's legal team said that, "In wake of the ongoing smear campaign being waged and the endless stream of leaks to the press by the police and state prosecutors, we reiterate our past concerns that such leaks run the risk of contaminating the judicial process and truly harm the due process."
Gilad Morag and Aviel Magnezi contributed to this report.