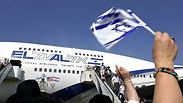 New immigrants arrive in Israel (archives)
Photo: Reuters
Thousands of Jews from throughout France participated Sunday in an aliyah information fair in central Paris, organized by the Jewish Agency for Israel in cooperation with the Ministry of Immigrant Absorption and the World Zionist Organization.

Participants met with representatives of dozens of Israeli organizations and institutions, including government ministries and local authorities, and received information on opportunities for life in Israel, aliyah programs for young people, educational programs for teenagers, employment counseling, and more.

Not Giving In

Rabbi Davide Altabe hopes that by remaining in northern Paris suburb of Villepinte, he'll encourage dwindling Jewish population to do so as well.

According to Jewish Agency figures, immigration from France has risen sharply since the start of the year with 854 new olim arriving in Israel during the months of January and February, compared to 274 in the same period in 2013.

This threefold (312%) increase is due in part to increased efforts by the Jewish Agency to strengthen the French Jewish community's relationship with Israel through educational programs, information sessions and aliyah fairs, as well as to the economic situation in France and communal insecurity due to anti-Semitism.

The year 2014 is thus set to continue the significant upward trend in French aliyah, which saw the arrival of 3,280 new olim in 2013 – a 70% increase compared to the 1,917 olim who arrived in 2012.

In addition to the increase in aliyah from France, the Jewish Agency has seen a significant rise in the number of Jewish young people interested in participating in Israel experience programs.

Some 1,000 Jewish high school students recently participated in The Jewish Agency's Bac Bleu Blanc ("High School Seniors in Blue and White") program, which enables students at Jewish schools to explore opportunities for life in Israel following their graduation from high school.

Additionally, 1,000 French Jewish young people are currently participating in Masa Israel Journey, a partnership between the Israeli government and the Jewish Agency that enables young Jews to experience life in Israel, compared to 500 just two years ago. Some 70% of French Masa participants make aliyah upon completing the program.

Two weeks ago, the Ministry of Immigrant Absorption and the Jewish Agency unveiled a new government plan to encourage aliyah from France. The plan includes boosting the number of Jewish Agency "shlichim" (emissaries) in France, increasing marketing efforts, developing new immigrant absorption programs, and establishing a special committee headed by the director-general of the Prime Minister's Office to remove obstacles to French aliyah.

The plan also sets clear benchmarks for increasing the number of olim, seeking to double their numbers in the coming years. This groundbreaking plan is the result of intensive cooperation between the Ministry of Immigrant Absorption and the Jewish Agency, along with the World Zionist Organization, the Ministry of Jerusalem and Diaspora Affairs, and Keren Hayesod-UIA, all of which are working together for the first time in order to strengthen French aliyah.

The plan was developed in consultation and cooperation with French Jewish organizations, both in France and in Israel.