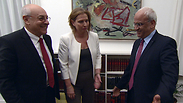 Tzipi Livni, Yitzhak Molcho, Seab Erekat
Photo: GPO
Palestinians publish new list of demands: PM must agree to East Jerusalem as capital
Amid reports recent bout of talks end without results, Palestinian leadership presents new list of demands, including a written commitment by Netanyahu that East Jerusalem will be Palestine's capital. Is this the end of talks?
The Palestinians have compiled a new list of demands for the continuation of peace talks, ranging from the release of some 1,200 Palestinian prisoners to a written commitment by Israel accepting the Palestinian state along the 1967 border with East Jerusalem as its capital.

The list was presented to the PLO Thursday by Chief Palestinian negotiator Saeb Erekat and Mohammed Al-Aalul, a Fatah central committee member, and indicated a hardening of positions by the Palestinians as talks falter.

The list of demands are:
A written commitment by Prime Minister Benjamin Netnayahu that the borders of the Palestinian state will be along the 1967 'green-line' and that its capital will be East Jerusalem.
The release of 1,200 Palestinian prisoners, including political heavyweights Marwan Barghouti, Ahmed Saadat and Fuad Shubkhi.
An end to the Egyptian-Israeli blockade on Gaza, and the formulation of dealing allowing the flow of goods into Gaza.
A halt in construction in East Jerusalem.
The IDF will not be allowed to enter Area A – the area of the West Bank under autonomous PA control since the Oslo Accords – to conduct arrests or assassinations
Israel will permit the PA control over Area C – currently under Israel's control.
The Palestinians known as the Church of Nativity deportees – a group of terrorist who barricaded themselves in the Church of the Nativity on April 2, 2002 and were later deported to European nations and the Gaza Strip – will be allowed to return to the West Bank.
The reopening of a number of Palestinian development agencies Israel shut down.

Peace negotiations are near collapse amid mutual accusations of bad faith. Earlier Thursday Palestinian sources told Ma'an that a nine-hour meeting between US Special Envoy Martin Indyk, Erekat, and Israeli negotiators Tzipi Livni and Yitzhak Molcho failed to reach results.
Related stories:
The source described the meeting as a "fierce political battle", with Martin Indyk struggling to control heated exchanges between both sides, Maan reported.
Now Erekat and Al-Aalul have presented the Palestinian leadership with a new list of demands, amid conflicting reports regarding US Secretary of State John Kerry's attempts to salvage talks through a prisoner release deal, which will see US spy Jonathan Pollard and hundreds of Palestinian prisoners go free, in return for talks' continuation.
Economy Minister Naftali Bennett slammed the list, and wrote on his facebook page: "You (the Palestinians) want a commitment? By all means: East Jerusalem will never be your capital".
Speaking earlier Thursday during a visit to Algeria, Kerry called it a "critical moment" for the peace process and vowed to continue his efforts "no matter what."
"You can facilitate, you can push, you can nudge, but the parties themselves have to make fundamental decisions and compromises," Kerry said. "The leaders have to lead and they have to be able to see a moment when it's there."
He recalled the old adage that you can lead a horse to water but can't make it drink.
"Now is the time to drink," Kerry said. "The leaders need to know that."
The Associated Press contributed to this report