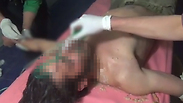 British and American investigators have begun a new probe into four recently reported cases of chemical attacks by the Syrian government against opposition rebels in the country's three-year civil war, The British Times reported on Friday morning.

The events under scrutiny include reports of Syrian President Bashar Assad's forces using chemical agents on March 27 in the suburbs of Harasta just North-East of Damascus and in another attack in the Jobar suburb of Damascus earlier this month.

Israeli security sources confirmed these claims but noted that the chemicals used were "non-lethal" and serve the purpose of "neutralizing" opposition forces.

Investigators will be looking into claims that the Syrian regime has begun using industrial chemicals toxic to the human body instead of weapon-grade chemicals in an attempt to terrorize rebels and civilians while avoiding military action from the West.

President Assad was nearly met with military force by the US an her allies last August after 1,300 people in opposition-held areas of Syria were confirmed to have been killed by the use of weapon-grade chemicals.

Despite the "non-lethal" nature of the chemicals allegedly used in recent attacks, the Syrian National Coalition (SNC) reported three deaths and over 25 injuries in the aftermath of the events in Harasta.

Related stories:

Opposition forces are believed to have taken clothing and soil samples from the attacks and delivered them to Jordan and Turkey for further analysis.

Rebels claim the specific use of harmful, yet relatively common chemicals such as chlorine and pesticides, an allegation that is now under investigation by joint US and Turkey officials according to the Times.

Attacks from April in Adra and Daraya on January 13 are also under investigation. Three more were reported dead by the SNC after the Daraya attack.

Rebels in Harasta posted videos online of apparent victims with no physical wounds, but with signs of trauma like "gasping for breath and, in one case, frothing at the mouth," the Times reported.

The Syrian American Medical Society (SAMS) cared for patients in the aftermath of the attack in Harasta and reported convincing symptoms of a chemical attack including "hallucinations, accelerated heart rates, trouble with breathing and in some cases, suffocation," according to the Times.

SAMS also reported numbers of dead and wounded similar to those of the rebel reports saying, "The Syrian American Medical Society strongly condemns an attack by poisonous gas in Harasta... on March 27."

"At least 25 people were injured and four were killed in the attack. All victims were taken to a SAMS-supported facility in the area."

Hamish de Bretton-Gordon, once commander of "Britain's Chemical, Biological, Radiological, and Nuclear Forces (CBRN) referred to reports of such symptoms as well as video evidence posted online as "compelling."

"Some sort of toxic chemical has been used, whether a chemical weapon or something like chlorine," said Bretton-Gordon.

Two days before the March 27 attack on Jobar, Syrian officials claimed to have intelligence that "terrorists" planned to use chemical weapons in Jobar and then to lay blame on government forces.

The British foreign office stated, "Whilst we know that some groups operating in Syria are interested in developing a chemical capability and some have acquired critical components, there is no evidence to suggest that any groups other than the regime possess a chemical weapons capability at present."
Chemical arms remove 'back on track'
The Syrian government agreed to dismantle its stock-pile of chemical weapons in September in a US and Russian brokered deal to avoid military actions by the West. The process is six months behind schedule, but still in progress under the watch of United Nations observers.
On Friday, a maritime task force in charge of the operation said the transfer of Syria's chemical weapons out of the country was back on schedule.
"After a period without loading and retrieval of chemical substances from Syria, the operation is still on schedule," public affairs officer Simen Rudi said in an email.
On April 4, "the security situation was considered good enough and eight new containers" were loaded onto Danish cargo ship Ark Futura in Syria's Mediterranean port city of Latakia, Rudi said.
Another seven containers were loaded on Thursday.
"This means that the operation is still on schedule, but the previously mentioned security situation will influence whether the operation is completed at the estimated time or not," he said.
AFP contributed to this report.