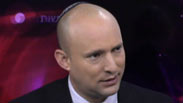 Bayit Yehudi backs Bennett: We'll quit coalition if Israeli-Arab terrorist freed
Photo: Uri Davidovich and Avi Hai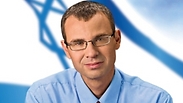 Coalition Chairman Levin: Reject deal
Photo: PR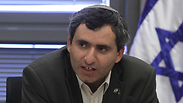 Deputy Foreign Minister Ze'ev Elkin hints he would quit if release happens
Photo: Gil Yohanan
Bayit Yehudi Chairman Naftali Bennett reiterated Friday that his party would send Israel to elections if the government decided to free Palestinian prisoners, namely a group of Israeli-Arab terrorists, as part of attempts to salvage peace talks, after the party held a faction meeting.

Meanwhile, political sources within the Likud hinted some of the more rightist members in the party would also quit should such a deal pass.

Thursday Bennett made similar comments, and Ynet has learned the Bennett made the ultimatum after learning the details of a looming deal to get talks back on track which would reportedly see an unknown number of Palestinian prisoners freed together with a US-spy Jonathan Pollard.

"If any proposal freeing Israeli murderers is put before the government, the Bayit Yehudi will object, and if it will pass – the Bayit Yehudi will leave the government which frees murderers with Israeli citizenship. Enough is enough," Bennett said in a statement Thursday.

Bennett called the Bayit Yehudi faction meeting in wake of the reports of the deal, which the US, Israel and the Palestinians were quick to downplay as "premature," though Washington said "gaps were narrowing" between the side.

The faction meeting was attended by all but one Bayit Yehudi members, all of which expressed strong support for Bennett's ultimatum, with some party members demanding he harden its conditions.

"Freeing Israeli murders is an affront on Israeli soverginty, those with Israeli ID cards like me and you. We need to put an end to Palestinian blackmail," MK Ayelet Shaked wrote on her Facebook page.

"You want negotiations? Tfadal (Arabic slang for 'Be my guest') But Israel does not need to discard its sovereignty for that."

Friday, at the end of a meet, Bennett announced that "if the 14 Israeli-Arab terrorist currently on the proposed list well be set free, we will probably go to elections," a position his party empathically supported.

He elaborated the comments, writing on Facebook: "We will not allow them to walk all over us."

In a conversation with Prime Minister Netanyahu, Bennett reportedly told the prime minister his party would no longer support gestures of good faith to the Palestinians as long as the PA continues with unilateral steps, a reference to its petition to join some 15- international organizations.

"He knows how to play politics," a party source told Ynet, but "freeing Palestinian prisoners is not politics, this is a red-line and has wide reaching ramifications."
Political instability
Bennett's announcement threatened to shake the coalition. Bennett's party has 12 of the 68 seats in Netanyahu's ruling coalition, and should it quit, Netanyahu would have to find new allies to maintain a working majority in the 120-seat Knesset.

Politicians from other parties, including the ruling-Likud, have kept mums, but "sources" from the party stressed that Bennett's threat is sterile, as no such deal would ever take place.

Nonetheless, party sources indicted that should the government move to authorize the release, Bennett and his party would not be the only defectors, with a number of Likud deputy ministers affiliated with party's right flank also expected to quit.

Deputy Foreign Minister Ze'ev Elkin has already hinted he would not retain his position if Israel frees the Palestinian prisoners, as has Coalition Chairman Yariv Levin.

"I call the prime minister to refrain from returning to the deal which would include the massive release of prisoners and a freeze in settlement construction," also part of the reported deal to save talks, "certainly all the while Palestinians have not retracted their UN petition," Elkin said Wednesday.

"Returning to such a deal projects weakness and will only encourage the Palestinians to lock horns with Israel in the international arena. We mustn't turn the other check while being spit at. Subservience will only lead to catastrophes. Signing the deal under its current conditions will lead to a political earthquake, and will push Israel into elections," Levin said.

Deputy Defense Minister Danny Dannon also claimed he would quit, saying: "Freeing Israeli-Arabs who killed Jews is an affront to common sense and the values of the 'national' camp. If my coalition partners will fulfill their promise, we will block mass release of terrorists. My position on this issue is clear - the moment the first murderer is set free I will quit my position as deputy defense minister."

As part of a deal to revive moribund peace talks last July, the Israelis agreed to release 104 Palestinian prisoners in four batches. However, it failed to set free the final group at the end of last month, triggering a crisis in the negotiations.

The Palestinians said they were assured by Washington that a handful of Arab prisoners with Israeli citizenship would be included in the release program, but Israeli officials have said they never made any such commitment.

Israel said Abbas was reneging on a commitment not to take unilateral steps aimed at boosting the Palestinians' quest for statehood during the July-April talks window.

In response, Netanyahu has imposed economic sanctions against the Palestinians and limited contacts with their leadership even as negotiators from both sides continued to meet to try to break the logjam.

Washington said on Thursday the two sides were making progress but dismissed suggestions an agreement to extend the talks had been struck.

Reuters contributed to this report