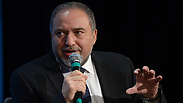 'He who wishes to quit – should quit.'
Photo: Shahar Azran
Yisrael Beiteinu's merge with Likud is no more and each party will run separately in the next elections, Foreign Minister Avigdor Lieberman said in an exclusive interview with Yedioth Ahronot.

Despite his decision to break away from Likud, Lieberman said he was not ruling out working with Moshe Kahlon, who is planning a comeback to politics not as part of Likud.

"I congratulate Kahlon for his return to politics, he is a good man with an impressive resume of accomplishments and I can only praise him. We worked together for many years, even before we were members of the Knesset and I don't see a reason why I wouldn't work with him again," said Lieberman.

Lieberman refuses to be impressed by Bayit Yehudi leader Naftali Bennett's threats to quit the coalition if Israeli-Arab terrorists are freed in return for Jonathan Pollard's release. "He who wishes to quit – should quit. Don't make threats," said Lieberman in his first extensive interview since he was acquitted of corruption charges six months ago.

Related stories:

The foreign minster believes that Bennett's threat is an empty one. "I am having a hard time seeing Bennett realizing his threat and to tell you the truth we are not worried about it. I believe that those who wish to spoil the party should reconsider and look at the bigger picture and the national interest, " Liberman said.

In addition to the diplomatic damage, the foreign minister claims that if Bayit Yehudi decides to quit the coalition, it would mean Israel would head to the polls once more.

"If Bennett quits - we're going to elections. I wouldn't go for another coalition," he said.

Lieberman himself plans to vote against the proposed deal, due to his objection to releasing Israeli Arab terrorists, but said he would allow Yisrael Beiteinu ministers to vote as they desire.

Lieberman also had something to say to government members who are criticizing John Kerry. He spoke warmly and affectionately of the secretary of state, with whom he just met during his eight-day visit to the United States that ended this weekend.

He considers Kerry "a true friend of Israel" and has advised cabinet members criticizing the secretary of state to act more modestly.

"Those who are unfamiliar with Kerry's record for the past 30 years should go into Google and read up about him," Lieberman quipped.

The full interview with Foreign Minister Avigdor Lieberman will be published in the special Passover edition of Yedioth Ahronoth, out on Monday.