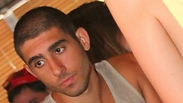 The murder victim, Yiftch Grady
A fight outside a clubbing area at Yezira St. in Ra'anana ended tragically early Monday morning with the murder of Yiftach Grady, an 18-year-old soldier from Givatayim. An initial investigation determined that the suspect stabbed the victim with a sharp object and fled the scene.

Magen David Adom paramedics rushed Grady to the Meir Hospital in Kfar Saba, where he was pronounced dead. Police forces were searching the area for the suspect.

Police detained 20 youth for questioning at the Kfar Saba police station, who where sent home after giving their testimonies. The police said they were searching for additional suspects.

Related stories:

An initial investigation into the stabbing indicated that the stabbing was preceded by an argument between the involved parties inside the club, who were then removed from the club by security guards. Outside, the conflict between the sides resumed.

According to police investigation the suspect picked up a sharp object from the ground and stabbed Grady in his upper body. At least a part of the fight was documented by the club's security cameras.

Kfar Saba police station commander, Chief Superintendent Ratzon Peretz, said that the arguement was fueled by heavy drinking. "This is a very difficult, unfortunate and localized event," Perets said, adding that "police investigators are close to locating the suspects."

MDA paramedic Hazar Tibi who arrived at the scene of the event said "in the area near the club a young man was lying on the floor. He wasn't breathing, had no pulse and had stab wounds in his upper body.

"Passerbys started performing CPR on him. We gave him advanced medical treatment that included massage and resuscitation and evacuated him to the Meir Hospital while continuing CPR. At the hospital the doctors pronounced him dead."

A young man who identified as Yitzhak and was at the club told Ynet about the chain of events that led to the murder. "The fight started inside the club, the tensions were very high and the sides shouted at each other. After a few minutes they went outside and we heard loud screams and figured that someone was probably getting stabbed."

Another witness said that "there are always fights in the club, but nothing ever evolved to this. This is usually a quiet dance bar, we hang out here a lot and are still shocked by what happened here."