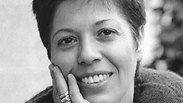 Renowned Israeli author Nava Semel
Photo: Alexa Gelberg
A group of diverse artists will discuss creative ways of conveying the universal lessons of the Holocaust through the powerful medium of the arts on April 28 at the United Nations Headquarters in New York.

The event is organized by the United Nations Department of Public Information's Holocaust and the United Nations Outreach Program in partnership with the Permanent Mission of Israel to the United Nations and the World Jewish Congress.

Jewish Hero

Man who saved thousands of Jews during Holocaust to receive Jewish Rescuers Citation together with seven others.

The dynamic multimedia program will be presented by accomplished artists in the fields of dance, literature, film and music. Panelists will include choreographer Steven Mills of Ballet Austin, author Nava Semel, Professor Olga Gershenson of the University of Massachusetts at Amherst and Dr. Shirli Gilbert of World ORT.

Each of the presenters has gained critical acclaim in his or her field. In 2005, Steven Mills, artistic director of Ballet Austin, led 13 organizations through a community-wide human rights collaboration that culminated in "Light/The Holocaust & Humanity Project." This ballet, which premiered in Austin in 2005, was inspired by the life of Holocaust survivor Naomi Warren, who will also take part in the panel discussion. Participants will learn why this inspiring project earned Mills the Audrey & Raymond Maislin Humanitarian Award by the Anti-Defamation League in 2006.

Nava Semel is a renowned Israeli author who has published books, plays, poetry and screenplays. The daughter of two Holocaust survivors, Semel will discuss her work as an author writing from the perspective of a second-generation Holocaust survivor. She is the recipient of numerous awards, including the 2007 Tel Aviv Award for Woman of the Year in Literature.

An expert in Holocaust cinema, Prof. Gershenson will provide an overview of the genre and discuss her recently published book titled "The Phantom Holocaust: Soviet Cinema and Jewish Catastrophe" (2013). This study focuses on unknown, forgotten or banned Holocaust films in the Soviet Union, which reflect how Russian artists tried to expose Hitler's insidious plot against the Jews during the World War II.

Dr. Shirli Gilbert will present an overview of the WORLD ORT "Music during the Holocaust Project," a diverse collection of sound recordings and in-depth articles on composers and musicians who created music during the Holocaust-era. An interactive map facilitates the exploration of musical life in ghettos and camps across Europe.

The event will open with remarks by United Nations Under-Secretary-General for Communications and Public Information Peter Launsky-Tieffenthal, Israeli Ambassador to the UN Ron Prosor and World Jewish Congress President Ronald Lauder.