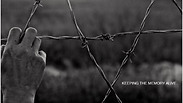 Archive
Photo: Derek Michael Wasylyshen
B'nai B'rith World Center and Jewish National Fund will mark their twelfth Holocaust commemoration ceremony by honoring Jonas Eckstein, a Bratislava-born Jew who saved thousands of lives while risking his own.

Eckstein was an active member of the Jewish community in Bratislava and was successful wrestler in "Hakoach" Jewish sport club in the city. His sporting activities allowed Eckstein to befriend city officials and police, which later facilitated his rescue activities.

Related stories:

Over a period of two and half years, Eckstein oversaw food distribution to Jewish prisoners, gave shelter orphans from Poland and also helped them flee to pre-state Palestine.

He further assisted Jews who fled to Slovakia from Auschwitz, and hid Jews in bunkers – including one he dug under his own basement.

As a result of his activities, Eckstein was imprisoned and tortured by the Gestapo and was pressured to hand over additional hidden Jews.

Many of his operations were conducted under the framework of the local Jewish community's efforts to save itself, but most of his activity were undertaken at his own initiative while risking his own life and the lives of his wife and infant daughter.

Jonas Eckstein will be represented at the ceremony by his daughter Tova Taitelbaum and his grandson, Israel Radio reporter Benny Taitelbaum.

Some 200 Border Police cadets – who will provide an honor guard - and 200 high school students will participate in the ceremony together with additional survivors.

The ceremony will take place at KKL-JNF's Martyr's Forest which commemorates the victims of the Holocaust with 6 million trees planted in the picturesque Jerusalem Mountains.

Guests of honor will be MK Amram Mitzna (Hatnua) and Slovakian ambassador Hon. Radovan Javorcik. Also speaking at the ceremony are KKL-JNF Chairman Effi Stenzler and B'nai B'rith World Center Chairman Dr. Haim V. Katz.

During the ceremony a 'Jewish Rescuers Citation' will be conferred by the Committee to Recognize the Heroism of Jewish Rescuers during the Holocaust (JRJ) and the B'nai B'rith World Center on seven rescuers - or their next of kin.

The citition recipients are: Efraim Agmon, Moshe Alpan, Neshka and Tzvi Goldfarb, Miriam and Yitzhak Roth from Hungary and Jacob Maestro from Greece.

Considering that many of the rescuers were young at the time of their activity, the organizers of the ceremony thought it was especially important to expose Jewish youth to the phenomena of Jewish rescuers during the Holocaust as a model for solidarity and courage.