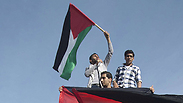 Palestinians celebrate unity in Gaza
Photo: AFP
Prime Minister Benjamin Netanyahu decided Wednesday to cancel the scheduled meeting between Israeli peace negotiators and their Palestinian counterparts in wake of the reconciliation agreement signed hours earlier between rival Hamas and Fatah parties.
Netanyahu slammed the agreement and said: "Abu Mazen (Abbas) could have chosen peace with Israel instead of peace with a murderous terror organization. Tonight, while talks are ongoing to extend peace talks, he chose Hamas… He who chooses Hamas does not want peace." Abbas for his part claimed the deal did not contradict the talks.
Soon after the unity deal was announced, Israel Air Force jets fired on a suspected Palestinian terrorist he rode his motorcycle in the northern Gaza Strip, however they missed their target and wounded at least 12 bystanders in Gaza.
Shortly after the strike, the "color red" alert for incoming rockets from Gaza sounded in Israeli communities in the southern Hof Ashkelon and Sha'ar Hanegev regions with three rockets being fired, but failing to land in Israel.
A statement from Prime Minister Benjamin Netanyahu's office regarding the cancelation of the negotiators' meeting said: "Israel has cancelled a negotiations meeting that was expected to be held this evening," without providing further detail.
Palestinian President Abbas said that the unity deal with Hamas does not contradict peace talks with Israel or the desire to reach a two state solution: "There is no incompatibility between reconciliation and negotiations, especially as we are committed to a just peace based on a two-state solution in accordance with resolutions of international law," Abbas said in an official statement distributed by his office.
"In the interest of the Palestinian people, it is necessary to preserve the unity of land and people," Abbas said, claiming it "helpa to strengthen the establishment of an independent Palestinian state with East Jerusalem as its capital. This approach, supported on the Arab and international levels, strengthen the capacity of Palestinian negotiators to achieve the two-state solution."
However, Justice Minister and Chief Israeli peace negotiator Tzipi Livni seemed to disagree, calling the agreement a "very problematic development which harms peace talks."
According to Livni, "in light of the new situation, Israel must examine its implications, and consider its next steps accordingly."
A source within the White House said that the announcement of a Fatah-Hamas unity government could have implications on the US aid to Palestinians.
"Every Palestinian government is unequivocally obligated to preventing violence, recognizing Israel and respecting past agreements." The source further noted that the US would "examine any Palestinian government along these principles," and decide whether they would have a negative influence on the US financial aid to the Palestinians.
Related stories:
Earlier Wednesday Netanyahu accused Abbas of sabotaging peace efforts by seeking rapprochement with Hamas: "So instead of moving into peace with Israel, he's moving into peace with Hamas," Netanyahu said.
"He has to choose. Does he want peace with Hamas or peace with Israel? You can have one but not the other. I hope he chooses peace, so far he hasn't done so."
Netanyahu and Abbas face a US-set target date Tuesday for either reaching the outlines of a peace deal or an agreement to extend their talks. An outline is out of reach at this stage, and the two sides remain far apart on the terms of a possible extension.
Hamas seized Gaza from Abbas in 2007, leaving him with only parts of the West Bank. Both sides have become entrenched in their territories, setting up respective governments and their own security forces.
Bayit Yehudi Chairman Naftali Bennett slammed the unity agreement between Hamas and Fatah, which also includes Islamic Jihad: "The Palestinian Authority has become the world's largest terror organization; we have entered a new political era in the Mideast."
Bennett further added "much like the US does not talk with al-Qaeda, Israel must make clear that it does not talk with killers."
However, Opposition and Labor party Chairman Isaac Herzog slamed the prime minister, saying the Palestinian unity agreement "was a result of Prime Minister Benjamin Netanyahu's lack of political initiative."
However, Herzog added that "the burden of proof regarding the implications of the agreement lies on President Abbas"
Meretz Chairwoman Zehava Galon echoed the claims and slammed the government for the situation: "Netanyahu pushed President Abbas into Hamas' arms and now he is asking him to choose between Israel and Hamas. This is an unreasonable demand which contradicts the Israeli interest."
According to Galon the agreement is essential "as long as Hamas is committed to the future agreement with Israel."
Abbas sent a delegation to Gaza this week for reconciliation talks with Hamas.
Haniyeh said during a news conference with al-Ahmed that "we agreed on a timetable to end the split."
He said Abbas would now begin consultations on forming an interim government within five weeks. Presidential and parliamentary elections should be held on the same date, "at the earliest six months after forming the government."
Moran Azulay and Matan Tsuri contributed to this report