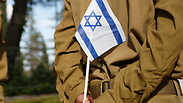 Yom Hazikaron 2014
Photo: Reuters
On the eve of Memorial Day – or Yom Hazikaron, the Day of Remembrance for the Fallen Soldiers of Israel and Victims of Terrorism – the number of Israelis killed in the line of duty stands at 23,169. In the passing year, 57 members of the security forces and 50 IDF veterans joined the list of the fallen.

The tally includes IDF soldiers and members of pre-state militias from 1860 and up until 2014. Memorial Day events will begin on Sunday evening with a one-minute nationwide siren and end Monday evening, ushering in Israel's 66th Independence Day.

Among those who fell while on active duty in 2014 were Petty Officer 1st Class Shlomi Cohen who was killed by Hezbollah operatives near the border with Lebanon, Staff Sergeant Gal Kobi who was shot to death by a Palestinian near Hebron, Private Eden Atias who was violently murdered in Afula and Sergeant Tomer Hazan who was murdered by a Palestinian co-worker who enticed him to come with him to the West Bank.

Also among this year's fallen is Captain Tal Nachman, who was killed by friendly fire near the Gaza Strip.

The number of bereaved families in Israel on the eve of Memorial Day is 17,038, and the 'bereaved family' as the group is collectively called in Israel was joined by the family of Chief Superintendent Baruch Mizrahi, killed on Passover eve en route to his seder near Hebron.

The 'family' numbers 2,141 orphans, 9,931 bereaved parents, 4,966 widows and widowers. According to Defense Ministry data, 87% of bereaved parents and 74% of widows were above 60 years of age.

The number of fallen whose place of burial is unknown stands at 533.

The Defense Ministry estimates that more than a million and a half people will attend memorial services in one of Israel's 57 military cemeteries. The ministry will hand out over 123,000 thousand flowers and reefs to the bereaved families, and over 4.1 million 'Remember' stickers were printed and will be handed out in Israel and in its missions across the world.

On Sunday at 4 pm, a memorial ceremony attended by the prime minister and Israel's chief rabbis will be held at Yad Labanim in Jerusalem. At 8 pm the central ceremony will be held at the Wailing Wall and President Shimon Peres and IDF Chief of Staff Lt.-Gen. Benny Gantz will light memorial torches in honor of the fallen.

On Monday, at 11 am an additional two-minute siren will be sounded and the official memorial service for the fallen will be held on Mt. Herzl together with Peres, Prime Minister Benjamin Netanyahu and Gantz. At 1 pm, a ceremony for those killed in terror attacks will be held in Mt. Herzl. At 8 pm Monday, Memorial Day events will conclude and will usher in Israel's 66th Independence Day celebrations.